3D Printed Hands-Free Door Opener for COVID-19
We are giving away complimentary
hands-free door openers that can fit stainless steel door handles – with either an internal diameter of 25.5mm or with an outside diameter of 33.5 mm. Contact us if interested!
For special diameter requirements, please contact us and we will try our best to customize it for you.
The Situation
A
s the
COVID-19
coronavirus continues to impact our daily routines, our applications team has been hard at work working on a few designs to help the healthcare community.
The Challenge
No matter where we go to, we are faced with door handles, and they are hotspots for germs because of their often and inevitable usage. Our additive manufacturing solutions partner, Materialise, was one of the first to answer the call of the community by releasing design files for a hands-free door opener to help stem the spread of the COVID-19 virus.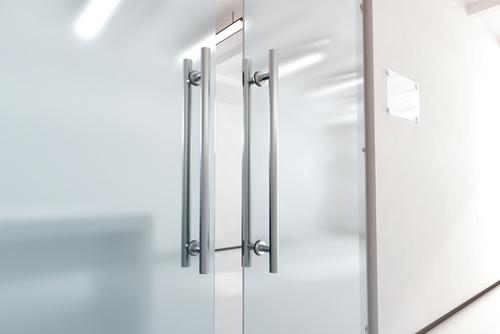 But there is no one-size-fits-all solution and so our application engineers set about designing a hands-free door opener that fitted our office doors in particular which had fixed stainless steel handles with no assembly required.
The Solution
The power of 3D printing enabled our application engineers to customize a hands-free door opener exactly to requirements. Our team set about designing the door-opener as simple as possible and can be printed as a single piece, with no assembly required nor any post-processing. Just print, dissolve support material, pat it clean, and mount it on the door handle.
For this particular design, we used ABS material and printed using a Stratasys F370 FDM 3D printer. ABS was chosen for its toughness and strength properties, allowing it to withstand heavy and repeated usage.
As one of the most basic engineering materials that are lightweight, affordable and readily available, good designing can bring you far since ABS can be easily molded to create the desired form.
In addition, using ABS with Stratasys's printers is different from similar competing technologies because of:
patented heated chamber
dissolvable support material
toolpath optimization
The above-mentioned three factors are important because others can't quite achieve that same performance.
Although there are other materials such as PC-ABS or Nylon 12CF which can achieve more rigidity, it will be an overkill for this type of application in terms of material costs, where ABS would do just fine.
* Door openers are not immune to contamination, so please disinfect them regularly.
Contact Us
If you have any inquiries, our team is on standby to engage with you for an in-depth discussion about your COVID-19 project – via the contact form, info@creatz3d.com, or call +65 6631 8555.
Request a Quote