3D Printing and the types of Medical Applications
3D Printing Technology has been widely used and recognized today in many different industries, from Consumer Goods all the way to the aerospace industry. However an increasing uptake is being seen in specifically the medical industry where innovative uses of the technology have been seen across various disciplines.
What is commonly mistaken is however the current practical applications that are available for the medical industry. In the following 3 points, we will discuss upon what are the current most commonly applied applications of 3D Printing Technology in the medical industry.
Creation of Customized Prostheses
An artificial body part, an extension of what used to be, prostheses have been used and seen as far back as 300 B.C. Today, traditionally mass manufactured prostheses are bulky and often

unsuitable for most patients. Due to the nature of each case, no two medical abnormalities are the same, which often results in patient having to undergo long and tedious process of fabricating customized prostheses.
However today, with the advancement in 3D Printing Technology, all these have been greatly improved. For instance in the case of an amputee, using a handheld 3D Scanner, the profile of the limb can be obtained and reverse engineered to produce a customized socket that is well fitted to the contours of the patient. A bad socket in many situations can cause the patient to experience pain, sores and blisters and often make the prostheses feel cumbersome and useless.
In addition due to the additive manufacturing nature of 3D Printing Technology, lightweight components can be manufactured in a cost effective manner. Customized infills such as honeycomb structures can be produced using lightweight materials like ABS as compared to traditionally milled metal components. This huge amount of weight reduction has its largest impact in paediatric prostheses, where it can become quite expensive to produce one. The ever changing and growing of a child often means that prostheses would need to be changed frequently and this can be quite expensive for their families. However with 3D Printing, modular components of the customized prostheses can be produced on demand. In addition with little or no change in tooling required, the components can be changed and altered as and when the child grows older.
Creation of Patient Specific Surgical Guides
In the Medical Industry, there is nothing more important than the health and recovery of the patient after the surgery has been completed. The rate of this happening can be greatly increased with the reduction of time spent by the patient in the operating theatre.
Using 3D Printing Technology, surgeons can now create patient specific surgical guides which greatly improves the efficiency of the surgeon during complex drilling and sawing procedures. Using biocompatible materials such as PC-ISO, junior doctors can now use these surgical guides to complex higher level of operating procedures, all whilst maintaining the high level of patient care expected of an experienced surgeon.
Due to the high complexity and unique nature of these surgical guides, it is much more cost effective to be created using an additive manufacturing technology, many a times costing much lesser than traditional produced guides.
Creation of various Pathology and Anatomically accurate 3D Models
Traditional medical imaging such as CT and MRI scan have always been the go to method that helps surgeons obtain a holistic view on the anatomy of their patient that they are about to operate. However many a time these 2D images, although accurate may sometime miss out on essential details that would otherwise be critical towards the success of the operation procedures.
With the incorporation of 3D Printing Technology, surgeons can now convert DICOM data obtained from CT and MRI scan over to 3D Printable STL format. This is then subsequently sent over to a 3D Printer such as the Connex3 500, where using the multi material capabilities, is able to replicate the different tactile feel of the human bone, skin, organ and even muscle.
Using these models, team of surgeons engaged in complex operating procedure can then come together to better prepare themselves for each step of the way. For instance in the case of twin girls Knatalye Hope and Adeline Faith at the Texas Children Hospital, 3D printed model were used in the pre-surgical planning of a complex 30 hours procedure which involved more than 26 different clinicians.
Dr. Rajesh Krishnamurthy, chief of radiology research and cardiac imaging at Texas Children's Hospital, said in a video released by the hospital, "Having a 3D-printed model gives you an insight into what you're going to encounter."
Moreover, using the 3D Printed model, the clinicians and surgeons were able to come together to better prepare what is needed for the surgery months in advance. This gives them the ability to better prepare necessary steps such as implanting tissue expanders in the babies torso to stretch their skin in preparation of the surgery to come.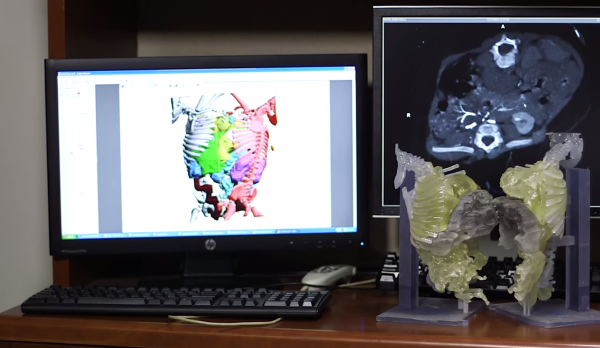 The realistic tactile feedback of the 3D Printed model also gives junior doctors the ability to operate on complex pathology, which was never before possible using traditional teaching guides such as cadavers or animal specimens.
In the medical industry, the possibilities of 3D printing applications are limitless. What we have covered above are just a snapshot of some of the disciplines that have been more prominent in the medical industry. Each day, new and exciting applications are being discovered and also with the ongoing developments of 3D Printing Technology, the applications just increases every day. For instance, as many would fathom, the developments of bio-printing will enable the possibilities of functional human organs and tissues to be created in the future.
For more information on how 3D Printing can bring about vast benefits to the medical industry, please proceed to www.creatz3d.com.sg. Alternatively you may choose to contact us at info@creatz3d.com or +65 6631 8555 for more details.