3D Printing, Enabling Technology in Medical Fields Luncheon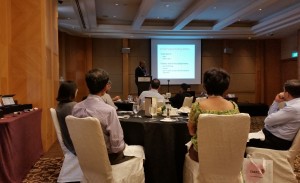 Experimenting with the possibilities of 3D Printing and forming an insightful perception on what can be done from there- that was the inherent theme of the "3D Printing, Enabling Technology in Medical Fields" Luncheon on May 9th. Renowned key-note speakers, Professor Lim Thiam Chye, Senior Consultant, Head of Division of Plastic, Reconstructive and Aesthetics Surgery at National University Hospital and Professor Dr Vickneswaran A/L Mathaneswaran, Head of Surgical Department at the University Of Malaya, shared their knowledge and expertise about the incorporation of 3D Printing into various medical practices.
During the Medical Luncheon, participants got to learn more about the advantages and applications of 3D Printing in different aspects of various medical fields. Through numerous case studies, Professor Lim demonstrated how 3D Printing technology was used in the creation of anatomically accurate 3D printed models, which were of great assistance in pre-surgical planning. Using the 3D printed models, Professor Lim was also able to pre-bend titanium plates prior to the surgery which greatly increased the success rate of operations.  Precise positioning and mapping can also be more easily achieved through 3D Printing and hence result in the reduced probability of errors.
Aside from that, 3D Printing also provides another cost-effective method for the carrying out of surgical simulations. According to Professor Dr Vickneswaran, the current procedure involves the use of Cadavers which are not only expensive but are also in short supply. Therefore, his research team have turned to incorporating 3D Printed Models into their education curriculum. With a few customizations of their own, they were able to achieve the most realistic effect, even simulating haemorrhage bleeding during an operating procedure.
Professor Dr Vickneswaran also identified the current trends in 3D Printing in the Medical industry and how it will affect the progression of medicine in the future. Professor Dr Vickneswaran concluded his presentation by identifying the current trends of 3D Printing in the Medical industry and how it will affect the progression of medical advancements in the future. Customized tools, 3D Printers that are able to print medical implants and 3D printed Titanium implants and other materials were just a few examples of the trends that he talked about.
In addition, discussions about Professor Lim and Dr Vickneswaran's presentations were carried out and there was an exchange of ideas and insights about the capabilities and benefits of 3D Printing Technology with the attendees. With their insights and experience, Professor Lim and Professor Dr Vicknes were able to provide attendees with the necessary information that they required. At the end of their presentations, Mr Sean Looi, General Manager of Creatz3D presented both Professor Lim and Professor Dr Vicknes with tokens of appreciation for their support.
Decreasing the amount of time spent in the operating theatre, increasing efficiency through better pre-surgical planning as well as uncovering new low risk surgical procedures, these are some of the benefits that can be brought about with the integration of 3D Printing technology into various aspects of medical procedures. Ultimately, they are all factors that contribute to the increased success of an operation and the patients' state of well-being.
Once again, Creatz3D would like to express our gratitude and thanks to all the attendees of "3D Printing, Enabling Technology in Medical Fields" Luncheon. For more information about the applications and advantages of 3D Printing in the Medical industry, please feel free to contact us via e-mail at info@creatz3d or +6631 8555