3D Printing in the Robotics Industry
With the fast paced advancement within the technological industry, different range of robots have been developed to perform a vast range of tasks. These boring, stressful or labour intensive jobs such as sorting, transporting, palletizing, inspecting and machining can all be done at a much effective and cheaper manner with the incorporation of robotics technology.
What is however a challenge in this context would be the Robot's end of arm tool (EOAT), which in many cases is specific to the designated task for the robot, such as gripping or welding. Although
in the market, there are many off the shelf, standard EOATs, users normally find themselves in need of customized solutions for their business workflow. In addition, due to low number of EOATs required, end-users often CNC machine metal bulky parts. These are then retrofitted with stock components such as vacuum cups, actuators and quick changers which also requires long lead time to be produced and assembled.
With the integration of 3D Printing Technology, all of the above can be overcome with ease and at the same time, greater cost effectiveness. For instance, using Stratasys FDM technology, an alternative method can be used for producing EOATs that can provide both dramatic time and cost savings. FDM is an additive manufacturing process that builds engineering grade thermoplastic parts layer by layer. These data are derived from 3D computer-aided design (CAD) files, which are then processed by the 3D Printing Equipment to be printed out.
Benefits of Using FDM EOATs
FDM EOATs brings about many different advantages both in performance as well as business effectiveness. Firstly the engineering grade thermoplastics used such as ABS, PC or ULTEM brings about a strong and robust part, all whilst maintaining the structural integrity of the part produced. Also, due to the additive nature of 3D Printing Technology, the part or component can be done with customized infills which in addition greatly reduces the weight of the EOAT. All these weight savings bring about lesser wear and tear to the robot arm and at the same time reduced efforts for operation, which in the long run, reduces maintenance cost.
The additive manufacturing nature also enables for more ergonomic shapes and structures to be produced, which in cases meant consolidating of components into a single part. Cumbersome tubing and valves can be now fully integrated into the EOAT through the creation of internal air channels. All these reduces the potential risk of machine breaking down when a tubing gets stuck during operation.
Business effectiveness can be improved with decreased lead time between tool changes, which may occur when the robot is being re-programmed with a separate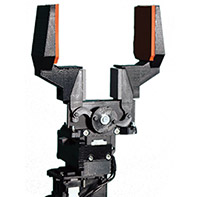 task at hand. Traditionally, users would have to depend on outsourcing of all these components to CNC machining vendors. However with the incorporation of 3D printing technology, these customized EOATs can be produced in house, with spares produced on demand. Factories with in house CNC capabilities are then able to free up their CNC machines for more profitable outsourced businesses.
There are many other benefits that 3D printing technology is able to bring about to both the robotics industry as well as other industries. The important thing is to find the right fit and proper integration into your current business workflow. At Creatz3D we believe in working with our customers in working with our customer in providing the optimum 3D Printing Equipment that will best serve their needs and requirements. As there are limitless possibilities that a professional 3D  Printer can offer, please do contact us via email at info@creatz3d.com or (65) 6631 8555.