3D Printing, Scan, Improve and Manufacture Joint Seminar with Shonan Design
Exploring various 3D Printing applications and acquiring the know how to achieving a seamless integration of 3D Printing and 3D scanning into the work process were the highlights of the '3D Printing, Scan, Improve and Manufacture Joint Seminar with Shonan Design' on October 7th. Held at Stratasys 3D Printing Experience centre, the seminar was jointly hosted by Creatz3D, Shonan Design and Stratasys and its main aim was to spread awareness about the various possibilities that can be achieved via 3D Technologies as well as how it can bring about numerous benefits to businesses.
As a solutions provider, Creatz3D is constantly striving to assist individuals and organizations in the incorporation of 3D Printing technology into their work process and in their quest for excellence and productivity. Therefore, we often encourage the exchange of ideas and concerns about 3D Printing Technology and this seminar was no exception. During the seminar, we not only shared our knowledge about the various applications and capabilities of the 3D Printing Technologies that we offer but also showcased 3D printed models/samples as examples so as to enable participants to have a better understanding of 3D Printing Technology.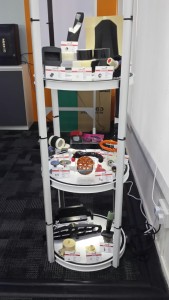 In addition, a live demonstration and tour was also carried out by our Pre-sales Applications engineer at the workshop of the Stratasys 3D Printing Experience centre. Through the live demonstration and tour, participants were able to obtain a closer look at the 3D Printing process while simultaneously learning about each 3D Printer's unique specifications and characteristics. As a result, they were able to better assess the suitability of the 3D Printers available according to their specific needs and requirements. Moreover, they were also able to clarify any questions they had towards 3D Printing Technology or 3D Printers and receive advice from our engineer and staff present on how to best utilize 3D Printing Technology, thus allowing for a fulfilling experience.
Aside from that, attendees also had the opportunity to learn more about 3D scanning and how it can be used together with 3D Printing to further improve product design and manufacturing via the talk given by our partner, Shonan Design. In the talk, several innovative 3D scanning technologies were featured, including the Artec Space Spider and numerous real life case studies of how 3D scanning and 3D Printing have facilitated the design process were shared. For instance, through the use of the Artec Space spider (Shonan Design) and Fortus 450 and Connex 3 (Creatz3D), a medical device was able to be re-designed to increase its functionality. Taking into consideration its various ergonomics as obtained from the 3D scan, the medical device was then equipped with a 3D Printed grip part, thus resolving the issue of it slipping out of the medical practitioners' grasp and subsequently increasing their productivity.
Creatz3D would like to thank all the attendees of the '3D Printing, Scan, Improve and Manufacture Joint Seminar with Shonan Design'. For more information about the different types of 3D Printing solutions and technologies that we offer, please proceed here. Alternatively, you can choose to contact us via email at info@creatz3d.com or (65) 6631 8555.
Like what you read? Share the love!