Distributor of Ceramic 3D Printers in Singapore

Creatz3D is an established company in the 3D printing industry and aims to redefine innovation by providing an extensive range of 3D ceramics printing services in Singapore and globally. Ceramic 3D printers are known to be one of the most technologically advanced additive manufacturing systems.
With their unique mechanical properties, ceramic is ideal for end-use, the production of biocompatible products and even food safe products. The unrivalled range of materials and processes dedicated to the additive manufacturing of ceramic parts make it possible to challenge the boundaries of what is impossible.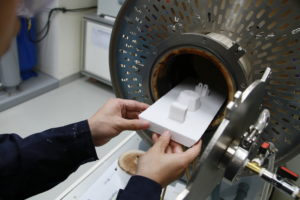 Our portfolio includes Laser Stereolithography technology and the newly added NanoParticle Jetting technology to suit your business needs.
Ceramic 3D printers from 3DCeram and XJET respectively will meet the specific requirements that you are looking for your business.
A wide range of ceramic materials with various outstanding properties will allow you to produce ceramic parts that meet stringent industrial qualifications.
Industry adoption of ceramic 3D printing lets you outdo your competitors with reduced cost and time spent.
Customize your ceramic parts production from R&D to end product with our ceramics printing service.