Industrial Ceramics 3D Printing in Singapore

The CERAMAKER is a ceramics 3D printer that is developed by 3DCeram, a company with more than a decade's worth of experience in ceramics 3D printing. CERAMAKER is suitable for use in a wide range of industries due to the benefits of ceramics as a material paired with the versatility of 3D printing technology.
XJET's NanoParticle Jetting, the most advanced ceramics 3D printing technology available in Singapore, is also part of our portfolio. It can produce ceramic parts of the highest quality with unprecedented levels of details, surface finish, and accuracy.
Ceramics 3D printing can be used across a variety of industries in Singapore, including aerospace, biomedical and industrial contexts, and the production of luxury goods.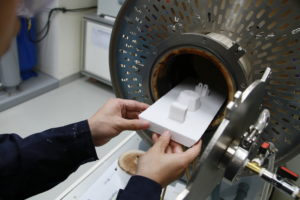 Our ceramic 3D printing portfolio includes Laser Stereolithography technology and the newly added NanoParticle Jetting technology to suit your business needs.
Ceramic 3D printers from 3DCeram and XJET respectively will meet the specific requirements that you are looking for your business.
A wide range of ceramic materials with various outstanding properties will allow you to produce ceramic parts that meet stringent industrial qualifications.
Industry adoption of ceramic 3D printing will allow you to outdo your competitors in the same market, with reduced cost and time spent.
Customize your ceramic parts production from R&D to end product with our ceramics printing service.