Ceramic 3D Printer Applications
With high levels of customization and with the ability to absorb colours in post-processing, ceramic 3D printing technology has been used in many industries like industrial, luxury goods, aerospace and biomedical fields with great success.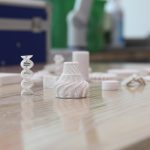 Aerospace
Break free of traditional processes and its
restraints with ceramic 3D printing and
push the boundaries of aerospace technology.
Biomedical
Ceramic 3D printed products have
unique porosity properties and extremely
good biocompatibility.
Industrial

 Produce components with exceptional
properties that can withstand the high
temperature and stress of industrial processes.
Luxury Goods

Unleash the freedom in the
design of luxury goods due to it's highly
customisable nature.