Creatz3D's Service Printing Support for COVID-19 Efforts
With the COVID-19 pandemic continuing to greatly impact the world, there is an ever-growing need to provide supplies to frontline health workers who are working tirelessly round the clock with dwindling essential medical equipment.
We have thus linked up as a strategic partner under NAMIC Singapore COVID-19 Response Resource Platform, which is a nationwide initiative to connects the needs of the medical community with their extensive network contacts of 3D printing hubs in Singapore, to support requests for healthcare equipment supplies quickly and efficiently.
We have been given approval by MTI to remain open during this Circuit Breaker period and provide support to companies or organizations providing essential services.
---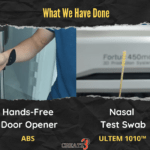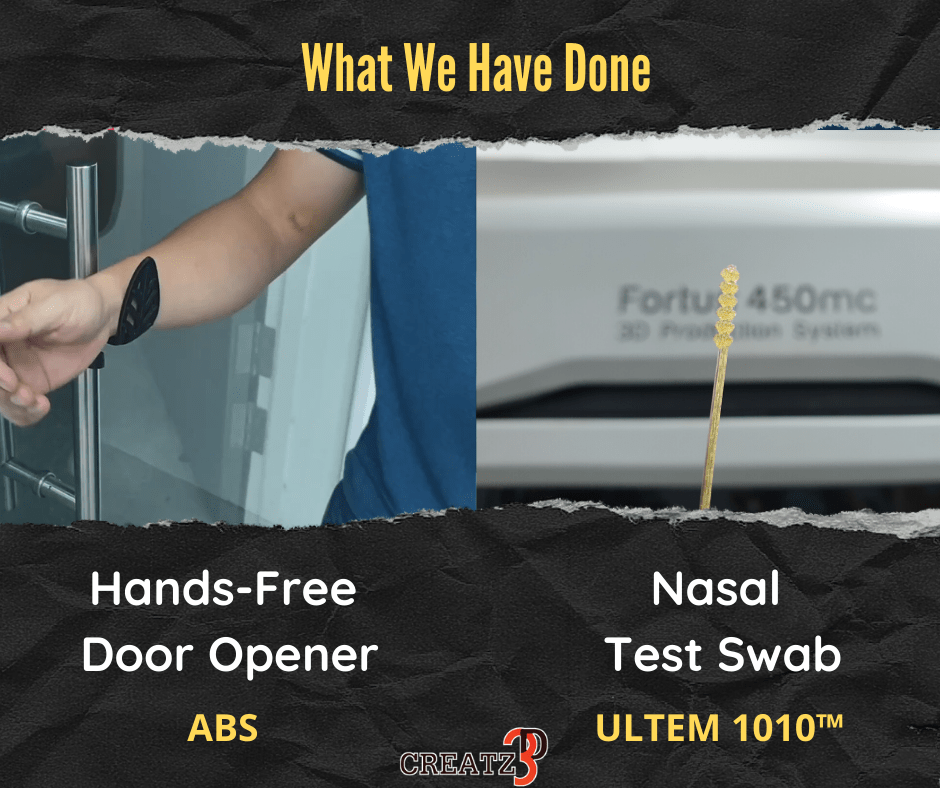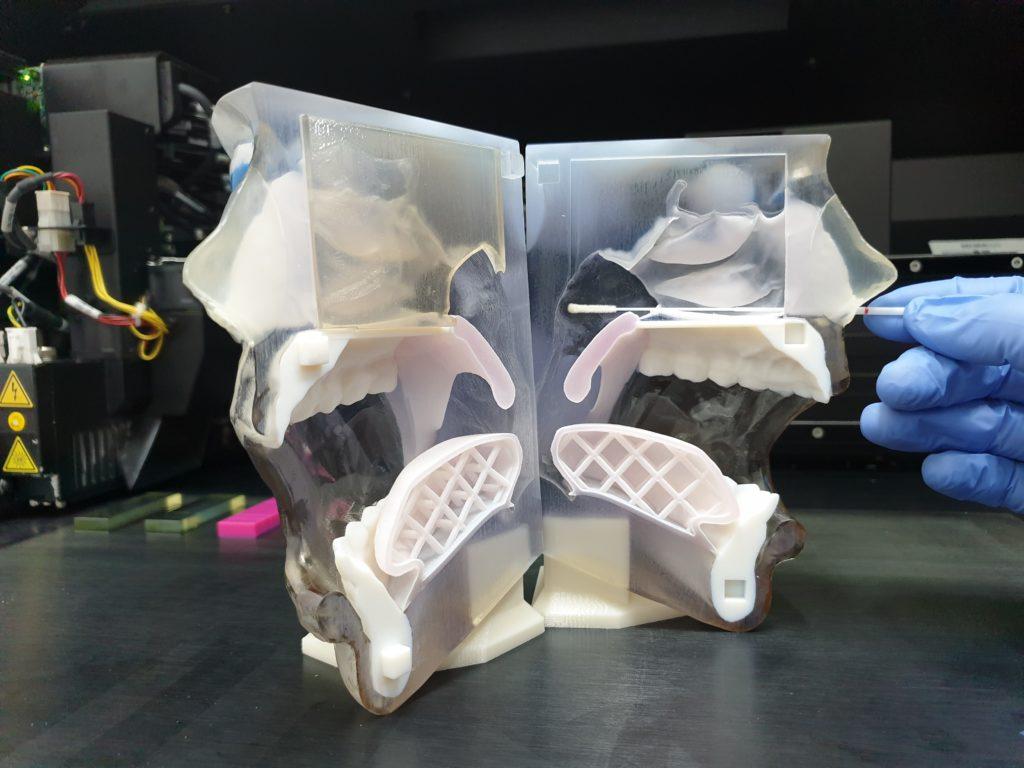 Applications We Can Print
Medical Manikins, Nasal Test Swabs, Hands-Free Door Opener, Face Shield Frames, and anything relating to COVID-19 support.
Click to learn more.
Our Capacity 10 – 50 pieces monthly
---
Our Resources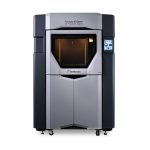 Stratasys F450mc
Technology: FDM
Build Envelope: 406 x 355 x 406mm
Materials: ABS-ESD7, M30, M30i, Antero 800NA, ASA, Nylon 12, Nylon 12CF, PC, PC- ABS, PC-ISO, ULTEM 9085, ULTEM 1010 – More Info
---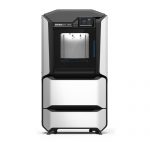 Stratasys F370
Technology: FDM
Build Envelope: 355 x 254 x 355 mm
Materials: TPU 92A, PLA, ABS-M30, ASA, PC-ABS – More Info
---
Stratasys Dimension 1200
Technology: FDM
Build Envelope: 254 x 254 x 305 mm
Materials: ABSPlus – More Info
---
uPrint SE Plus

Technology: FDM
Build Envelope: 203 x 152 x 152 mm
Materials: ABSPlus – More Info
---
MakerBot Method X
Technology: FDM
Build Envelope: 152 x 190 x 196 mm
Materials: ABS, ASA, PLA, TOUGH, NYLON, PETG – More Info
---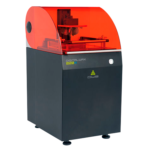 Digital Wax Systems – DWS 020X
Technology: SLA
Build Envelope: 130 x 130 x 90 mm
Materials: Photopolymer materials featuring ABS-like, Rubber-like, PP-like, Transparent, Smooth surface, High temperature resistance, casting resin – More Info

---
STL File Resources
If you have access to a 3D printer now, you can download for FREE the files for printing. All links contain detailed technical information on how to print and assemble, and are provided by the manufacturers themselves.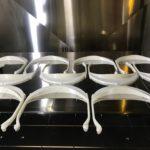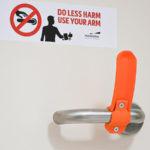 Stratasys – Face Shield Frame
https://go.stratasys.com/lp-face-shield.html
MakerBot – Face Shield Frame
https://www.makerbot.com/stories/professional-3d-printing-resources/makerbot-3d-printing-initiative-to-combat-covid-19/
Materialise – Hands-free Door Opener
https://www.materialise.com/en/hands-free-door-opener
---
If you have any inquiries, our team is on stand by to engage with you for an in-depth discussion about your COVID-19 project – via the contact form, info@creatz3d.com, or call +65 6631 8555.