Inside 3D Printing Conference and Expo 2017
The annual 'inside 3D printing' conference and expo is a time where experts from all fields of the 3D ecosystems gather and share their new finding and strategies for ways to enhance work productivity. This year's inside 3D printing 2017 brought about a widespread of solutions for suppliers, institutions and 3D printing enthusiasts.
Held at Suntec Convention Centre from February 14 to 15th, the event featured specialised and cutting-edge 3D Printing, scanning, software and robotic technologies along with seminars covering new trends and developments in 3D related technologies.
As a participating exhibitor, Creatz3D was there to share our 3D Printing knowledge and expertise with attendees and provide them with specific 3D Printing solutions that would aid them in overcoming the constraints faced when using traditional manufacturing methods.
We decided to make learning about 3D printing fun this year, with our marketing team devising a Fun-Fact wall that was specific yet simple to understand for guests. Guests were invited to take part in a short quiz after reading the fun facts, and they were entitled to spin the wheel of fortune upon completion to claim an instant prize or for a chance to claim the top prize by assembling a puzzle printed by our engineers. Through this fun yet interesting method, guests were able to understand the differences between professional and hobbyist grade solutions to solve their issues.
In addition, Creatz3D showcased a variety of 3D Printed models and samples showing manufacturing tooling for small volume, medical concept models, functional prototypes and post-processing samples that each represented a different type of technology that could be applied to improve the aesthetic of the product. This proves that Stratasys solutions can achieve both functionality and product aesthetics.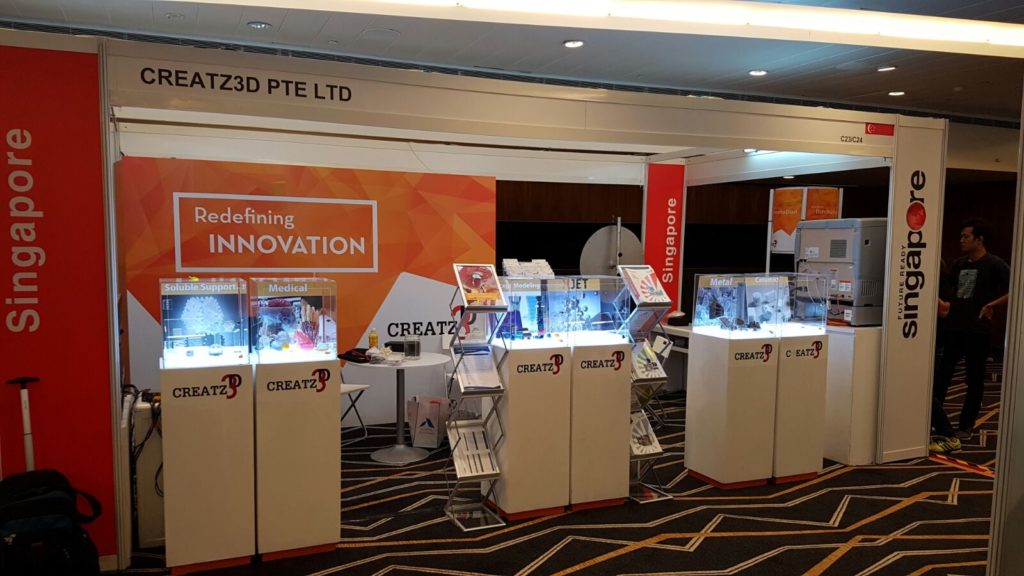 Asides from that, Creatz3D's General Manager Mr Sean Looi shared some insights about the latest trends and developments in 3D Ceramics Printing through the seminar session held on the first day of the exhibition.
During the seminar session, Creatz3D also invited a special guest speaker all the way from Israel, representing and unveiling the world's first metal depositing 3D printer XJET, Markets Development Manager Mr Avi Cohen. The unique technology drew the attention of many guests as the Creatz3D's booth was flooded with enquiries about the new Metal printing technology after the seminar. Aside from the ability to print small and accuracy parts in metal, XJET boast of ceramics technology as well.
As solution providers, we understand that the general market in Singapore is still picking up at a very slow rate. Nonetheless, we encourage companies to start exploring Additive Manufacturing to further understand if it's the right "FIT" for them.
Rather than integrating 3D Printing Technology into their workflow right away, organisations, businesses and individuals are advised to evaluate the feasibility and suitability of the technology based on their requirements and needs, so as to ensure optimal success and benefits.
Media Coverage
The media team that was covering the event also involved Creatz3D in a small section of the filming. Joining them for the interview was Creatz3D General Manager Mr Sean Looi and Mr Avi Cohen Markets Development Manager from XJET.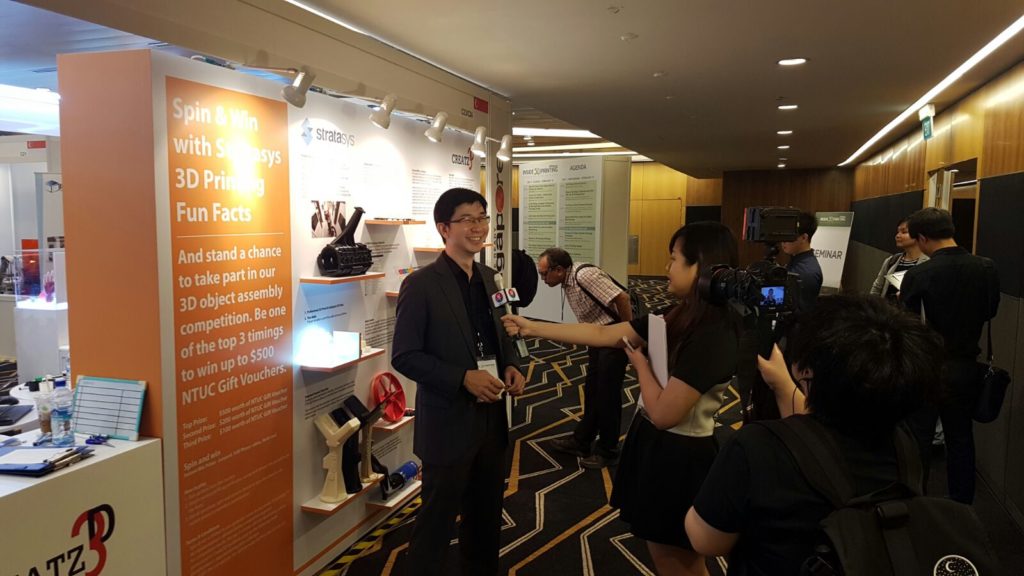 Last but not least, attendees were also able to have a first-hand experience of the 3D Printing process through our uPrint SE Plus and Objet 30 Pro on site, thus allowing them to develop a clearer idea of how it works as well as the various factors to take into consideration when designing their products or parts such as the size of the 3D Printer's build tray.
Creatz3D would like to thank all the attendees of 'Inside 3D Printing Conference and Expo 2017'. For more information about the different types of 3D Printing solutions and technologies that we offer, please proceed here. In addition, feel free to check out our latest promotions here and learn more about the benefits that we have lined up for you. Alternatively, you can choose to contact us via email at info@creatz3d.com or (65) 6631 8555.

Like what you read? Share the love!