Manufacturing Solution Expo 2016
Jointly organized by the Singapore Manufacturing Federation (SMF) and Sphere Exhibits, a subsidiary of Singapore Press Holdings Limited (SPH).  The third edition of Manufacturing Solutions Expo was held at Suntec Singapore Convention & Exhibition Centre from Oct 12 to 14.
With the focus this year being on "The Future of Manufacturing", the tradeshow showcased a myraid of exhibitors from various industrial segments such as digital factory, industrial automation, sustainable environment as well as the supply chain.
Creatz3D is honored to have represented Singapore in MSE 2016, showcasing the different applications and benefits that 3D Printing has to offer in improving the productivity and efficiency of the manufacturing companies. Held in conjunction, our General Manager Mr Sean Looi, also gave a presentation about the impact that 3D Printing has towards the logistical and tooling management of any said company.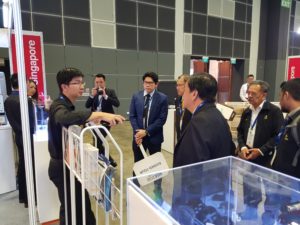 Creatz3D provides professional 3D Printers as well as 3D Printing Materials from Stratasys and is the sole distributor in Singapore. At the Manufacturing Solution Expo 2016, Creatz3D showcased several new and intriguing applications such as carbon fibre layup tooling which is widely being used to create strong yet lightweight components.
Over the 3 days event, Creatz3D experienced an overwhelming interest and response on the 3D Printing technology. Many people are fascinated by the potential and the amazing technology behind Stratasys's FDM and PolyJet machines and what it can produce and do.
There are boundless benefits and applications that 3D Printing can do for the Manufacturing Industry, what is important is in the way that it is being applied. As there are many different ways, Creatz3D pride ourselves in working with our customers. As such, if you do have an application in which you would like to explore, please do not hesitate to contact us at info@creatz3d.com or 6631 8555.