Electron Beam Melting (EBM) is a versatile metal 3D printing technology suitable for use in various industries. A high power electron beam generates the energy needed for high melting capacity and high productivity. Melting is enabled at multiple points simultaneously, without compromising on surface finish, precision or build speed.
THE TECHNOLOGY
EBM is a metal 3D printing technology patented by ARCAM that's used in its ARCAM Additive Manufacturing (EBM) systems. It employs the principles of deflection by generating a powerful electron beam to melt multiple layers of metal powder layer and layer in a controlled vacuum and high-temperature environment. The electron beam is managed by electromagnetic coils providing extremely fast and accurate beam control that allows several melt pools to be maintained simultaneously.
This results in robust, solid, high-quality metal structures being formed.
THE RESULT
Products made by EBM through ARCAM Additive Manufacturing (EBM) systems have a consistent surface, is free from residual stress, have a microstructure free from martensitic structures and material properties better than cast and comparable to wrought material. With this technology, you have freedom in design, while obtaining excellent material properties and high productivity.
Hence, it is not only a cost-efficient production alternative to conventional casting and machining but also offers completely new opportunities for product differentiation and development of new trademarked trabecular structures. ARCAM Additive Manufacturing (EBM) system is particularly suitable for specialised use in medical and aerospace application.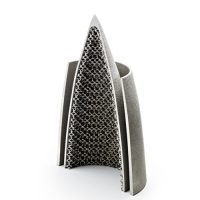 THE MATERIALS
ARCAM ASTM F75 Cobalt-Chrome, Titanium Grade 2, Titanium Ti6AI4V, and Titanium Ti6AI4V ELI.