Nanyang Technological University Taps On 3D Printed Organs To Assist Medical Students
Having studied the human anatomy as a medical student with donated cadavers and organs some 20 years ago, Assistant Professor Reddy Mogali of Nanyang Technological University's (NTU) Lee Kong Chian School of Medicine has come up with an alternative – 3D printed replicas of human organs in a myriad of colours, hardness and flexibility that mimic the properties of real human organs.
Prof Reddy, 38, who is also the Head of Anatomy at LKCMedicine, said that with these specimens, students would be able to appreciate structural variations in the same organ from different people. For example, everyone's heart and other organs are different. As such, one septum may be bigger than another. If students were to studying just one heart, it could be difficult to understand what was taught. All along, students have been working with wet and plastinated cadavers. Wet cadavers are soft and pliable as they have been preserved in a solution called formalin. Students can touch the cadavers with gloves, but the smell of formalin is unpleasant and irritates their eyes. Plastinated cadavers are dehydrated specimens that were injected with silicone. They do not smell or decay, but are more rigid than wet cadavers and can break if handled recklessly. Although they are rarely broken, there is always the fear that may be damaged accidentally.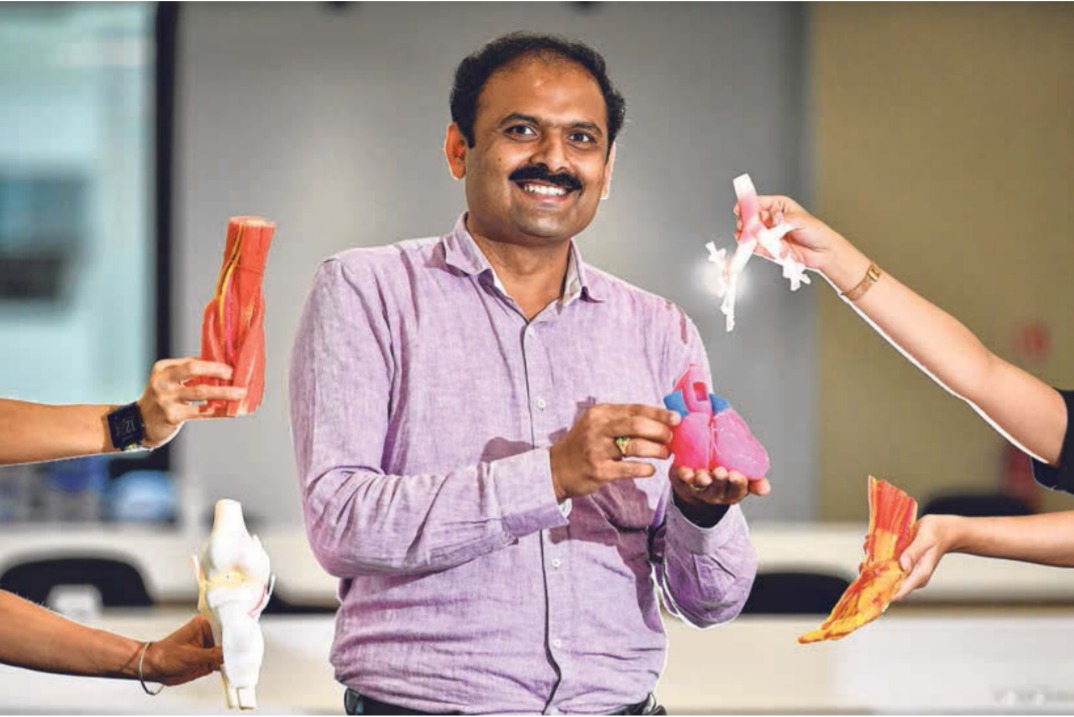 It can cost up to $6,000 to replace a plastinated heart and $12,000 for a full upper limb (shoulder to hand). On the other hand, the material cost of a 3D printed replica of a heart is about $400. Donated cadavers are frequently in short supply. Prof Reddy mentioned that it is hard to obtain them due to ethical, religious and financial issues.
To print the 3D replicas, the organ undergoes a CT scan. To recreate a 3D image to be printed, segmentation to identify the various structures of the organ is done on a computer. Prof Reddy has applied for know-how technology disclosure to acquire intellectual property protection for his work. He hopes that hospitals can use the 3D printed replicas as well. For instance, they can be used to simulate surgery and explain a complex operation to patients before the procedure.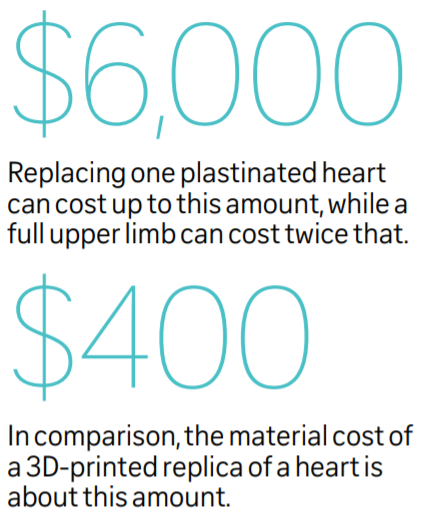 The university will look into evaluating the technology's potential, after IP protection is acquired by Prof Reddy for his work.
The Stratasys Objet Connex3 500 3D printer offers:
Flexible colour options of up to three-color gradients for vivid colour textures based on the colour information of your CAD files.
Precision prototyping enables a 16-micron layer resolution for fine prototype detailing.
Learn more about our Stratasys Objet Connex3 500 3D printers. You can also contact us via our contact form, email us at info@creatz3d.com, or call +65 6631 8555 for any further inquiries.
Like what you read? Share the love!