Optimizing the manufacturing process with 3D Technologies Joint Seminar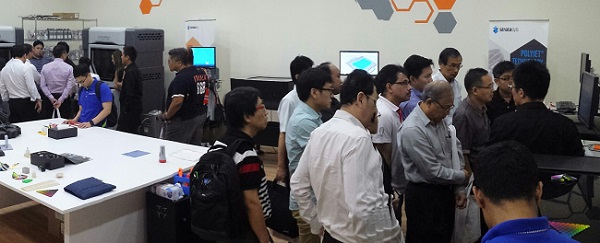 "How do we ensure a streamlined manufacturing process with maximum tooling efficiency?"-that was the main topic that was discussed at the 'Optimizing the manufacturing process with 3D technologies' seminar on 31st March. Jointly organized by Creatz3D, Singapore Precision Engineering and Technology Association (SPETA) and PD Solutions, the main aim of the seminar was to let attendees develop a better understanding of how 3D Technologies such as 3D Printing and 3D CAD software can positively impact the design and manufacturing process, leading to numerous benefits.
As such, there were many sharing sessions that were held during the seminar, ranging from live demonstrations to in depth presentations about 3D Technologies. For instance, in our speaking session, Creatz3D not only shared about the capabilities of different 3D Printing Technologies but also highlighted the various emerging (3D Printing) trends, hence enabling participants to obtain a holistic view of the changing manufacturing landscape. Several 3D Printed models were also on display and showcased during the talk thus enhancing attendees' perception of several 3D Printing applications and facilitating the learning process.
In addition, attendees were also able to gain a closer look at the Reverse Engineering case study undertaken by Creatz3D and PD Solutions. Through the live demonstration held, they could experience how the current fixture design was modified and enhanced via PD Solutions Creo software and  the 3D Printing Technologies offered by Creatz3D. In order to address the issue of long lead time and high costs imposed by conventional manufacturing methods, an existing CMM measuring fixture was re-designed to improve its functionality. Firstly, in order to reduce the build time as well as the weight of the fixture, an inner sparse fill was utilized. ASA material was also used to produce the fixture due to its durability and relatively smooth surface finishing. Most importantly, unlike traditional manufacturing methods, the fixtures can be labelled directly without the need for additional processing techniques. As a result, users are able to better keep track of the different design iterations that were done, thus allowing for easier inventory organization and control.
Last but not least, a demo tour was also carried out by our Pre-sales Applications engineer at the workshop of the Stratasys 3D Printing Experience centre. Through the tour, attendees were able to gain a first-hand look at the 3D Printing process as well as the vast range of 3D Printers available. Aside from that, they were able to voice any concerns they had about the machines or 3D printing applications and clarify them with the engineers right away, thus enabling for an informative session.
Creatz3D would like to thank all the attendees of the 'Optimizing your manufacturing process with 3D Technologies'. For more information about the different types of 3D Printing solutions and technologies that we offer, please proceed here. Alternatively, you can choose to contact us via email at info@creatz3d.com or (65) 6631 8555.