MakerBot Materials for METHOD X
Push The Limits Of What's Possible
MakerBot Materials have been extensively-tested and tuned to produce the highest reliability and measurably accurate parts.
Manufactured to exacting diameter and quality specifications with thousand of hours of testing, the materials are optimized to give you the best results and highest quality.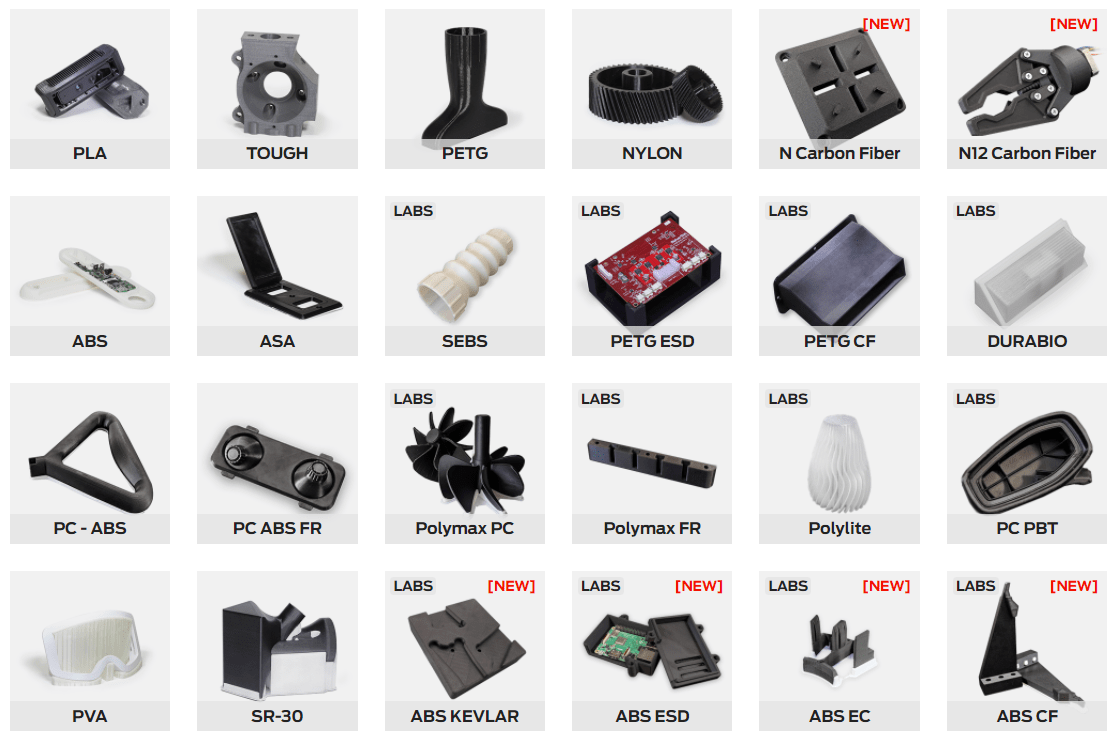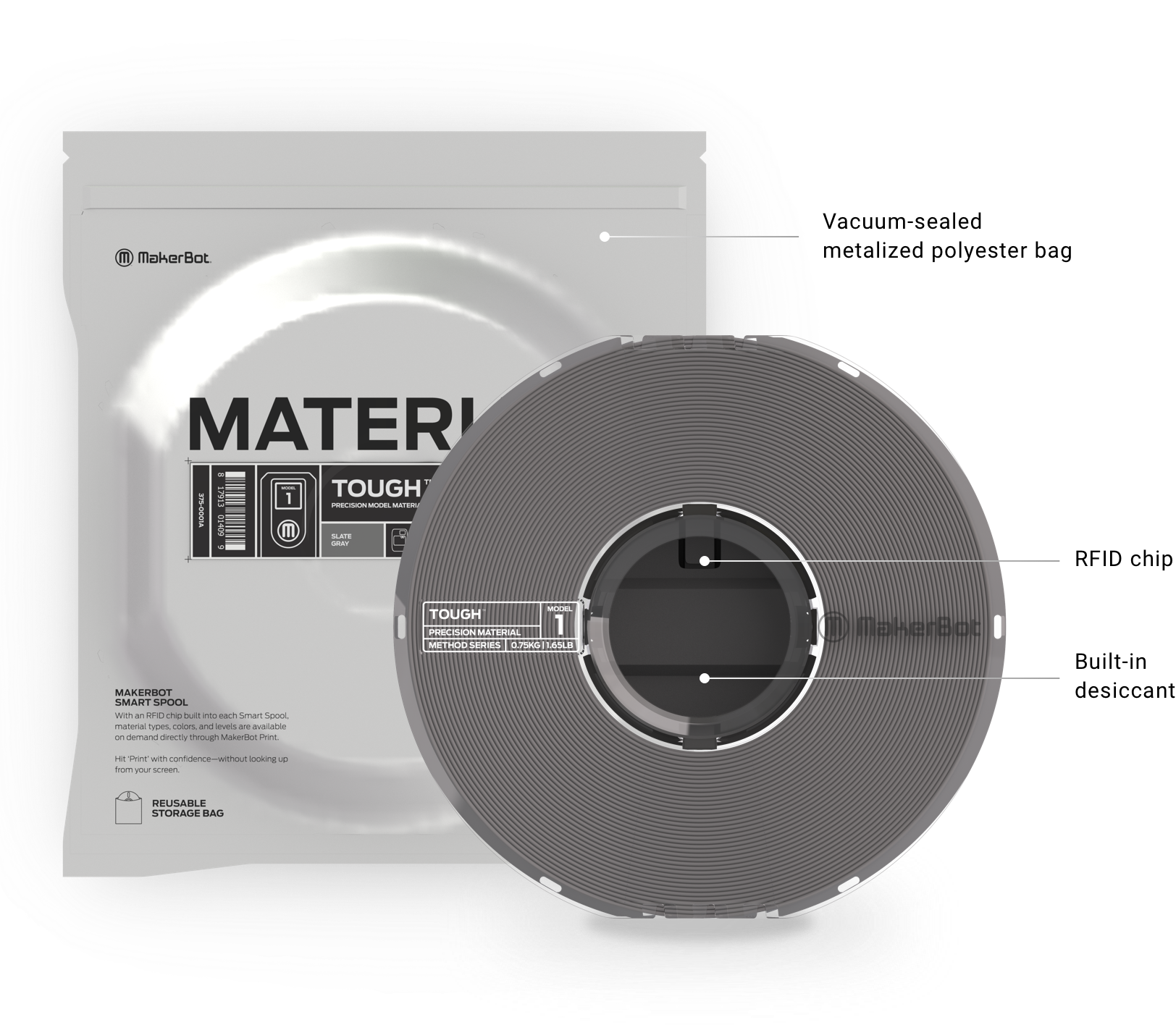 Shipped in a vacuum-sealed metalized polyester bag, quality is preserved right up until opening.
The Smart Spool™ provides valuable information including material type, color, and amount remaining via an RFID chip directly to MakerBot Print, while a built-in desiccant absorbs any moisture exposure during the material loading process.
Material
Highlights
MakerBot ABS
Real, production-grade ABS for manufacturing applications.

One of the most popular materials for injection-molded consumer products.

Clean surface finish, durability, and heat resistance.

Print manufacturing-grade ABS without warping and without weakening additives thanks to the METHOD X circulating 100°C heated chamber.


MakerBot PC-ABS, PC-ABS FR
Prints at 110°C to ensure high-quality parts.

Delivers higher impact strength and heat resistance than ABS.

Used frequently in injection molding.

High heat resistance and high impact resistance.

Print durable and heat-resistant prototypes and end-use parts.


PC-ABS FR is the flame-retardant version that meets the UL-94 V0 standard, an important fire safety specification.


MakerBot ASA
UV and moisture resistant for demanding outdoor applications.

Ideal for equipment exposed to sunlight and rain over long periods of time – such as products for the agriculture, transportation, and power and utility industries.


MakerBot NYLON
Highly abrasive resistant for industrial applications.

Ability to withstand high temperatures coupled with its durability combine for above-average abrasion resistance.

Excellent go-to material for fabrication of replacement parts in a manufacturing facility or distribution center.


MakerBot NYLON Carbon Fiber
Ideal for lightweighting metal parts such as robotic end effectors.

Good stiffness makes it perfect for applications that require parts to hold their form with minimal flex - automotive brackets or inspection gauges.

Offers high heat deflection of 184°C for higher temp under-hood and tooling applications.


MakerBot NYLON 12 Carbon Fiber
Superior moisture resistance for easier printing and more consistent results for performance in a wider range of environments.

Offers an impressive 6000 Mpa tensile modulus for applications that require parts hold their form with minimal flex.

Accessible to anyone for nearly any application - from simple tools to complex end-use parts. Examples include automotive brackets, inspection gauges, and more.


MakerBot PETG
Chemical and moisture resistant as well as being highly durable.

Ideal for liquid containers and bottles, which also makes it great for prototyping those types of products.

Also commonly used in research labs that require chemical resistance in functional parts or containers.


MakerBot TOUGH
Ideal for office-friendly printing of durable and tough parts.

Great for mid-stage prototypes because of its ease of use and office-friendliness.

The benefits of using this over PLA are its durability, pliability, and machinability which makes it perfect for snap fits and assemblies.


MakerBot PLA
Produce rigid and glossy parts for quick and easy, office-friendly prototyping.

Great material for early concept models and works great with breakaway supports which print faster and can be removed faster than dissolvable supports.

PLA is a corn-based plastic and is considered biodegradable under industrial processes.
Stratasys SR-30
Dissolvable support material from Stratasys.

Proprietary material developed to work seamlessly with ABS, ASA, and various other high-temp materials.
MakerBot PVA
Water-soluble support material for complex parts.

Compatible with many lower temperature model materials such as PLA and PETG.

Very office-friendly, and is a great option for printing the most complex geometries in a prototyping environment.
Check out MakerBot LABS – an open materials platform that enables the use of pre-qualified 3rd party filaments from leading filament companies to explore even more advanced 3D printing applications with METHOD X.