MakerBot LABS Open Materials Platform Program
UNLIMITED MATERIALS
WITH OPEN MATERIALS PLATFORM


EXPERIMENTAL EXTRUDER FOR METHOD
The MakerBot LABS Experimental Extruder easily swaps into the model material slot of the MakerBot METHOD X 3D Printer for unlimited material testing options and optimization.
Built on the same industrial architecture as the Performance Extruder for METHOD X, the Experimental Extruder brings power and precision with the added benefit of interchangeable nozzle assemblies.
A growing list of partners has worked to qualify filament for use with the Experimental Extruder.
ABS CARBON FIBER from KIMYA
An ABS composite material with 30% chopped carbon fiber for improved stiffness and lower weight.
PETG ESD from JABIL
An easy processing, Electrostatic Dissipative (ESD) product for printing parts that meet sensitive electronics and could be damaged by electrostatic discharge.
DURABIO™ from Mitsubishi Chemical
Bio-based, BPA free resin. It combines PMMA's transparency with a higher chemical and scratch resistance compared to polycarbonate (PC).
PC-FR from Polymaker PolyMax™
A flame retardant polycarbonate (PC) filament (UL94V-0/1.5 mm) displaying excellent toughness, strength, and heat resistance.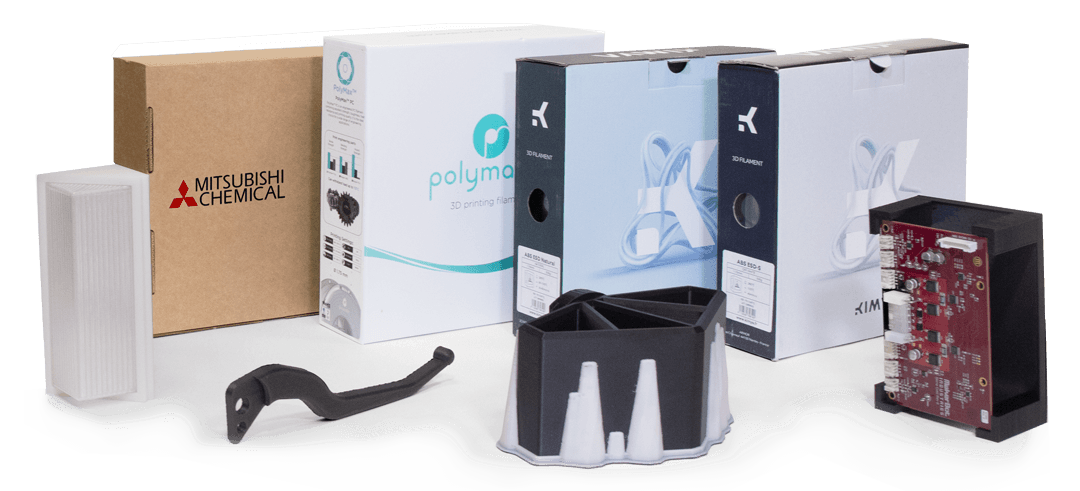 1 Dual Gripper Mount for Manufacturing Robot Arm by All Axis Robotics
Check out MakerBot Materials that have been carefully tested for thousands of hours to achieve engineering standards of printed part dimensional accuracy and strength, for use with METHOD X.