More Advanced Functional
Prototyping with Nylon 12CF
A carbon-filled thermoplastic with excellent structural characteristics, the material is comprised of a blend of Nylon 12 resin and chopped carbon fiber, at a loading of 35% by weight, to achieve the highest flexural strength and stiffness-to-weight ratio of any of our FDM materials.
With the high stiffness-to-weight ratio, Nylon 12CF is a stronger and more practical material choice when it comes to prototyping. Go straight from design to production and enjoy a faster and easier  prototyping process.
Available for Fortus 450mc™ and Stratasys F900™ 3D Printers.
The red-painted parts on this bike frame were made with Nylon 12 Carbon Fiber.
Lightweight Strength,
Carbon Fiber Reinforced
The combination of high strength, stiffness and light weight lets you use FDM Nylon 12CF to replace metal components, for lighter tools, functional prototyping and select end-use parts in the aerospace, automotive, industrial and recreational manufacturing industries.

63.4 MPa (XZ Axis)
28.9 MPa (ZX Axis)

7515 MPa (XZ Axis)
2300 MPa (ZX Axis)


85 J/m (XZ Axis)
21.4 J/m (ZX Axis)
Produce strong and lightweight 3D printed prototypes such as this bike stand while continuing to test it in a range of real-world environments and conditions.
ELIMINATE UNNECESSARY COSTS
Eliminate the need for metal tooling which could mean a reduction of machine tooling from months to just weeks such as this brake pedal.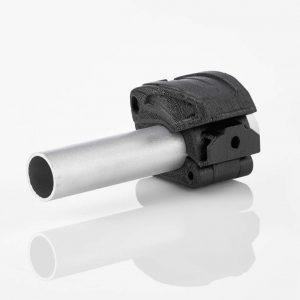 Get creative without limits or geometric constraints.  There's no need to worry about how to lay up the carbon fiber onto the molds because of the flexibility.
Shorten lead times while producing complex parts with flexibility, accuracy, and ease. Connect with us now to learn more!