Replicate and attain your visualized colourful designs quickly and efficiently with Stratasys Creative Colours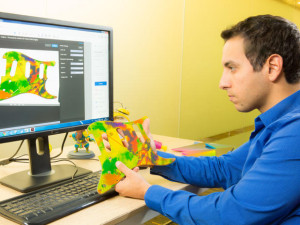 In fashion, animation and several other industries, achieving a realistic 3D model is vital to the success of the end product. Whether it is incorporating a varied gradient of colours into the animated model figurine or combining different materials into a fashion accessory, PolyJet technology allows you to push the envelope and unleash your full creativity.
Gone are the days where you have to worry about comprising functionality in exchange for aesthetics. Through PolyJet Technology (Connex 3), you are able to select, mix and match different materials to get the ideal material capability that you desire, hence maximizing product effectiveness. One example would be Trek Bicycle Corporation, in which the mix of combined digital materials that they selected, resulted in sturdy and durable overmolded parts as compared to their previous functional prototypes.
In addition, with the launch of the Stratasys Creative Colours (The product of a joint collaboration between Stratasys Objet Software and Adobe 3D Colour Print Engine), you can now design multi-coloured, life-like 3D models effortlessly, without the hindrance of lengthy and complex procedures. Bypassing the troublesome steps of rendering, fixing and preparing the 3D files on a separate 3D software, Stratasys Creative Colours lets you create 3D models with vibrant colours and diverse textures all on one platform. As such, this does away with the need to possess specific technical expertise for numerous 3D software and opens up the 3D Printing field to a broader audience.
Furthermore, the presence of the preview option in this Adobe add-on, you can ensure that the various aspects of the original 3D Design is exactly translated and replicated onto the actual 3D Printed product. This in turn, results in increased design efficiency and accuracy, while providing you with a clearer idea of what is to be expected, thus eliminating the possibility of confusion.
Most importantly, the geometry fixing function available in Stratasys Creative Colours also facilitates and expedites the design review process. Through this function, you are able to quickly spot and rectify any design flaws such as gaps or inconsistent wall thickness levels, leading to reduced design and production time as well as higher quality 3D Printed models/products. This subsequently impacts the overall workflow and brings about benefits such as enhanced product reliability, material savings and costs.
Eager to know more about how to capitalize on this new Stratasys x Adobe software Add-on? For more information about the capabilities of the Stratasys Creative Colours software add-on, please proceed here to download your copy of the White Paper. Alternatively, you may choose to contact us at info@creatz3d.com or 6555 8831 to find out more.