Students use 3D Printing to build a defence machine that can penetrate uneven terrain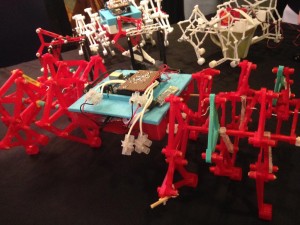 A robot that can easily manoeuvre and navigate through uneven terrain on the battlefield– all of this has been made possible by four 17 year old students with the aid of 3D printing technology. Resembling a spider, the 3D Printed robot has specially designed rounded "feet" that prevent objects from being ensnared by its eight legs. Through wireless Bluetooth technology, the movements of the robot can be controlled via a smartphone. This allows the user to direct the robot to any specific location as desired. Powered by a small engine, the machine is the result of six months' worth of effort by students enrolled in the Young Defence Scientists Programme (Research@YDSP).
This creation was showcased at the YDSP Congress 2015, on Tuesday (21st April).
Having cited Dutch artist, Theo Jansen's 'Beast on the Beach' (Strandbeest) as the source of inspiration (for the robot), NUS High School of Mathematics and Science student Lee Jia Hern explained the rationale behind the design. He claimed that the robot's legs were a lot more stable than the other wheeled designs commonly used in normal modes of transportation. In addition, it was energy saving as well.
He also shed some light on the purpose of the robot and said: "It can be used to transport supplies and weapons. Cameras and communication equipment can also be loaded on it, thus enabling it to fight alongside with soldiers on the battlefield while gathering data and intelligence to be sent back to headquarters."
Another group member, Sharon Tan, a student from National Junior College said that through this experience, her greatest achievement was learning how to utilize 3D Printing technology. "Previously, I only had a superficial understanding of how 3D Printing Technology worked. This experience has allowed me to realize that this technology is not as simple as it seems and there are a lot of factors that need to be taken into consideration. Otherwise, the printed product will be different from the design."
The team instructor, assistant professor from Singapore Polytechnic, School of Mechanical Engineering, Yan Yong Ye (颜永业), also shared his view on 3D Printing. He said: "In the future, 3D Printing Technology will become increasingly popular and they will be as commonplace as computers. It will have a revolutionary impact on the manufacturing industry and will play an increasingly important role in national defence, education as well as the food and beverage (industries). For example, in the future, on the battlefield, if we have any damaged weapon parts, we can use 3D Printers to produce the spare parts and we don't have to wait for the spare parts to be supplied to us."
A total of 450 people attended the seminar which showcased 64 products that were made from the research of 100 students from 12 schools (Secondary schools and Junior colleges). During his speech, Minister of State for Defence Dr Maliki Bin Osman said: "National Defence engineers and scientists shaped the strength of Singapore's defence today and laid a solid foundation for our future."
(Photo credit to AsiaOne)
For more information about the YDSP Congress 2015, please proceed here.
*Photos above are credit to ChannelNewsAsia and AsiaOne as respectively.
**Original source credit to Lianhe Zhaobao (24th April)