Plastics 3D Printing Technology
Explore the range of industry-leading Stratasys 3D printing systems that work with Stratasys-patented Fused Deposition Modeling and inkjet-based PolyJet technologies.
Experience industrial superiority with the only additive manufacturing technology that works with production-grade thermoplastics under a patented self-calibrated heated chamber.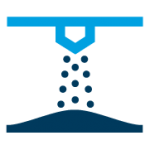 PolyJet 3D printing technology continues to push the limits of aesthetics and performance possibility, with its ability to combine multi-coloured photopolymer material options into a single print.