Manufacturing Solutions Expo 2015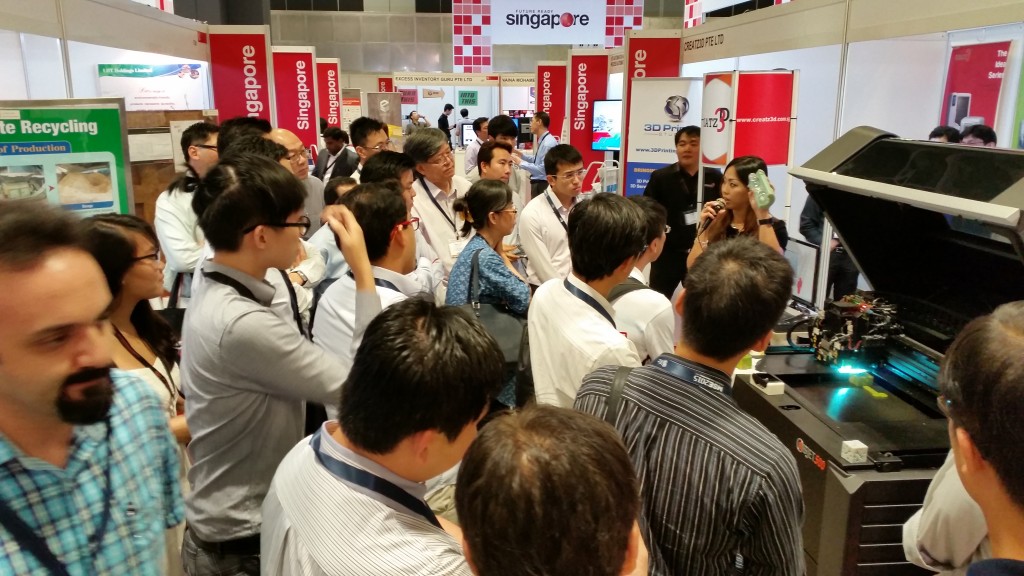 "How do we complete a task more efficiently?" and "How can we utilize various emerging technologies to achieve our desired results and increase productivity?"- these were the questions that were addressed at Manufacturing Solutions Expo 2015.  Held from 30th September to 2nd October, the exhibition took place at Suntec Singapore Convention and Exhibition Centre (Halls 401-402) and featured a prominent gathering of 100 international and regional brands as well as over 3,000 attendees.
As one of the exhibitors that participated at Manufacturing Solutions Expo 2015, Creatz3D is honoured to be able to engage with attendees and share our knowledge about how 3D Printing Technology can expedite the design and manufacturing process and improve work efficiency. By exchanging ideas and communicating with attendees, we were able to identify the main problems that were hindering their productivity and propose 3D Printing solutions to solve it.
In addition, daily 3D Printing tours were also carried out at our booth throughout the duration of MSE 2015. Catered exclusively to only those who attended MSE 2015, the tour consisted of an in-depth explanation about the 3D Printing Technologies that Creatz3D offer along with their various applications, material compatibilities and benefits. For instance, during the tour, participants got to learn more about how PolyJet Technology can be utilized in Silicon molding in the context of a low volume, short run production, hence leading to time and cost savings and increased design flexibility.
Furthermore, attendees were also able to enjoy a live demonstration of the 3D Printing process via our Objet Connex 3D Printer (At our main booth) and Mojo 3D Printer (At Additive Manufacturing & Robotics showcase) on site, thus enabling for an educational and visually stimulating experience. To top it off, videos showcasing the 3D Printing process for both Fused Deposition Modeling (FDM) and PolyJet Technology were shown, hence allowing participants to develop a better understanding of how they work and how they can be integrated into their business workflow.
Aside from that, Creatz3D also further shared our expertise about 3D Printing Technology through our involvement in the Technology talks that were carried out during MSE 2015. During the talk session, Mr Sean Looi,  General Manager of Creatz3D discussed the potential and capabilities of Direct Digital Manufacturing solutions and how it can revolutionize and positively impact the design and manufacturing process. As such, attendees were then able to better gauge the suitability of DDM with their current work practices and make better informed decisions. At the same time, they were also able to gain more knowledge about 3D Printing Technology and become aware of its benefits such as increased work efficiency and decreased production time.
Creatz3D would like to thank all the attendees of 'Manufacturing Solutions Expo 2015'. For more information about the different types of 3D Printing solutions and technologies that we offer, please proceed here. Alternatively, you can choose to contact us via email at info@creatz3d.com or (65) 6631 8555.