Stratasys Fortus 450mc Trade in Promotion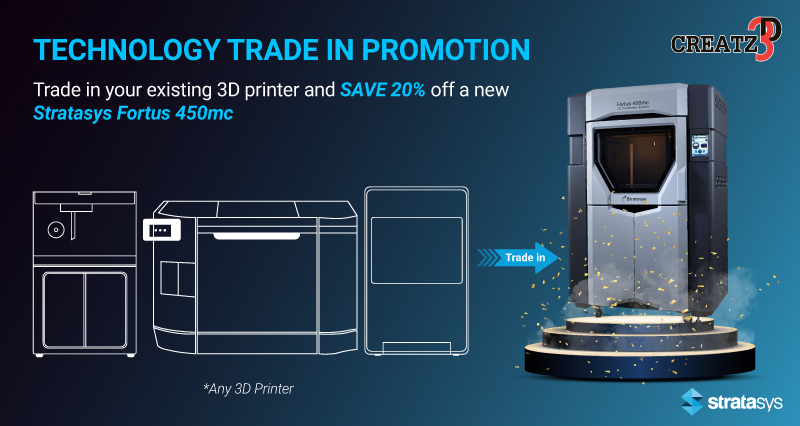 For a limited time ONLY, get an incredible 20% discount when you trade in any 3D printer for a "unlocked" Fortus 450mc. This exclusive promotion also includes:
FREE UNLOCK of all Material Licenses (12!)
COMPLIMENTARY Nylon 12CF™ Hardware Upgrade
COMPLIMENTARY SCA 3600HT Cleaning Station
---
Backed by proven Stratasys Fused Deposition Modeling (FDM) technology, the Fortus 450mc is a workhorse production system that sets a high bar for speed, performance, and accuracy, from functional prototyping to end-use manufacturing tools.
With support for 12 industrial-grade engineering thermoplastics from standard to engineering to high-performance, build complex, accurate and repeatable parts with excellent reliability.
Unlike competing systems, the 450mc requires minimal training time with a simple touchscreen interface, easy-to-replace build trays, and loading options. The accompanying GrabCAD Print
software also simplifies the entire design-to-print process.
---
Build Size and Supported Materials at a glance


---
This time-limited promotion ends on 15 December, 2020, so ACT now!
¹ Material consumables such as filaments, foundations, tips, etc, are not included with this promotion.
² Terms and conditions apply and are at our discretion.
Contact your local sales representative, give us a call at our general hotline +65 66318555, or email us at info@creatz3d.com. You can also submit the form below to indicate your interest.
Like what you read? Share the love!