3 Reasons to Consider a Closed-Loop Metal 3D Printing System
Did you know the end-to-end metal 3D printing system solution, Desktop Metal Studio System, has a patented Ceramic Release Layer that separates the metal part from its metal support structures?
Did you also know that Fabricate software is able to determine the debinding process and how the furnace heat profile should be, based on the toolpath generated? See how easy it is to separate the support in the video.
With control over the build process and in-process quality control, closed-loop metal 3D printing with the Desktop Metal Studio System can increase repeatability by reducing build failures risks. Let's learn more.
1) Seamless Cooperation between Printer, Debinder, and Furnace
Every initiated job is auto-tuned according to geometry and material.
There's no need for custom tooling nor a highly trained operator to achieve, as the ceramic layer is automatically generated by Fabricate which separates the metal part from its support.
This prevents the sintered part from fusing with the support, allows for easy removal with bare hands, and eliminates the need to have a set of expensive workshop equipment like those required with typical metal printing solutions.
2) Built-in Expert Metallurgy
The system literally has a "built-in metallurgist" which some of the world's best metallurgists at Desktop Metal have worked on, placed their know-how into the hardware and software, and calibrated to produce the highest quality and results.
Thus, Desktop Metal is best positioned to know what works for parts printed out from their printer, the debinding process, and what type of heat curve will give a fully sintered part.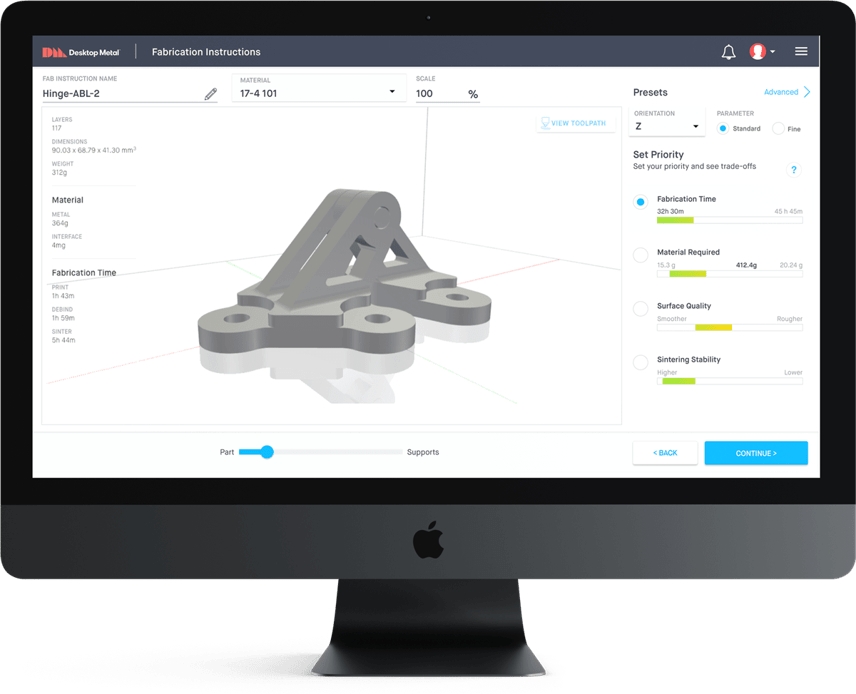 It is critical for users to note that while it's possible to tweak settings when working with an "open" system/software, which opposed to how a Studio System+ works, it takes more than an average operator to know what would be the best parameters to set to achieve a fully sintered part.
In a nutshell, this is a perfect solution for those who have little or no experience in metal printing or has a limited budget in hiring metallurgy expertise and want to step into metal printing quickly.
3) Higher Quality Parts Production
Users are allowed to customize their own print parameters for respective parts, depending on their preference or requirement in the expected part performance, and print them on-demand.
Stackable shelving allows greater part capacity in both the Debinder and Furnace, increasing the throughput and workload volume, making it more cost-effective to sinter parts in bulk.
To ensure a high success rate for such a production scale, a powerful software such as Fabricate, is needed to recommend where the parts should be positioned. The process profile should also be in both the Debinding and Sintering processes.
---
Every technology has its own constraints, and Desktop Metal is no exception.
To better grasp how your parts will work on the Studio System, contact our sales engineers for an in-depth discussion to better understand your requirements – via the contact form, info@creatz3d.com, or call +65 6631 8555.
Like what you read? Share the love!