3D Printing Excellence with CATIA V5 (Post Event)
On the 5th of October 2014, Creatz3D and TecMaven jointly organized an seminar catering to the Aerospace industry. The purpose of this seminar was to share about how 3D Printing Technology has benefited various aspects from MRO (Maintenance, Repair, Overhaul), to creating end-use parts such as air ducts to be fitted onto the aircraft.
With over 40 sign ups, individuals that came to the event were equipped with the knowledge on how 3D Printing Technology can revolutionize and improve their business workflow.
The seminar kicked off with an opening address from Mr Sean Looi, General Manager of Creatz3D, welcoming the attendees and giving them a glimpse of what they are will be covered during the seminar. Following which, Mr Donald Koh, Sales Director from TecMaven Group, showcased the latest developments in the 3D CAD software "CATIA". This was reinforced by a demonstration by Mr Keith Tan, Customer Support Manager, from TecMaven Group whom brought the attendees through a step by step procedure in creating a car side mirror inside CATIA V5.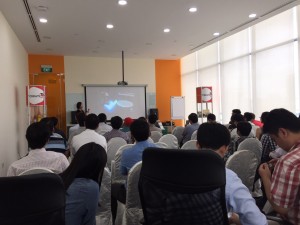 Upon completion of the 3D CAD design demonstration, Miss Sally Chuen, Sales Manager from Creatz3D gave the attendees an overview of the different technologies that Creatz3D provides such as Stratasys FDM (Fused Deposition Modelling), Polyjet technology and ARCAM, EBM (Electron Beam Melting) technology. A print out of the car side mirror designed in CATIA V5 software was showcased during the exhibition. This printed part also demonstrated the different post-processed methodology available in the market today, displaying the possibilities of  3D Printing, going beyond the traditional prototyping mindset.
Attendees were also brought around Stratasys Demo room, in which housed the latest machinery such as the Fortus 450mc and the Objet 500 Connex 3. Other than being able to see the machinery, attendees were able to get hands on with the samples that were showcased during the exhibition.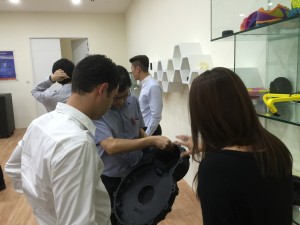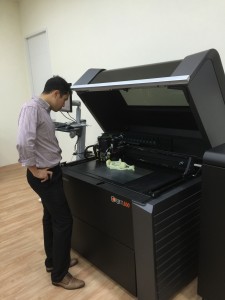 The session ended off with a presentation by Mr Stanley, Pre-Sales and Application Manager at Stratasys, whom shared the various applications such as Carbon-Fibre layup and hydro-forming process with 3D Printed parts.
Creatz3D was proud to once again been given the opportunity to share the latest developments in 3D Printing Technology with interested individuals from the Aerospace Industry. We would like to thank all the attendees that came and for making this seminar a great success.
Drop us an email at info@creatz3d.com or call us at 6631 8555 for any enquires.