Creatz3D joins Advanced Remanufacturing Technology Centre (ARTC) during opening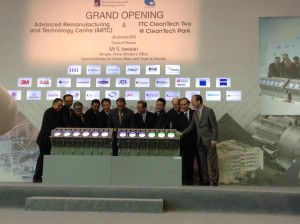 Last week during the grand opening of Singapore's Advanced Remanufacturing Technology Centre (ARTC) and the JTC CleanTech Two @ CleanTech Park, Creatz3D witnessed the start of Singapore's efforts to strengthen its capabilities in clean technology and re-manufacturing.
Speaking at the event was Second Minister for Trade and Industry Mr. S Iswaran, who identified growing use of re-manufactured components in a climate of rising resource costs and concerns over environmental sustainability.
"In view of this outlook, the Singapore Economic Development of Singapore (EDB) has identified re-manufacturing as a key sector in its Future of Manufacturing initiative, which aims to make Singapore a regional hub for advanced manufacturing processes."
According to ARTC, Re-manufacturing is the process acting on end-of-life products to recover manufacturing standards and specifications. Re-manufacturing ensures the same product quality, durability and performance as new components while maintaining sustainability of resources and covering a wide range of core and enabling technologies
Typically for one component, re-manufacturing saves:
>60% energy
>70% materials
>90% water
>80% pollutant emissions
>80% value retention
50-70% cost reduction

These technologies will enable companies and businesses to translate end-of-life products into "good as new" ones for the market through a sustainable process. This contributes to greater cost and materials savings and, potentially, higher profit margins.
Creatz3D joined ARTC as one of the 29 industry partners, coming in as the provider of 3D printing capabilities offered by Stratasys and Arcam. Sean Looi, General Manager of Creatz3D was honoured to have been invited upon stage to sign on the collaborative banner to commemorate participation of its opening.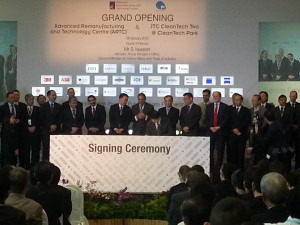 Also at the event are JTC, A*STAR, Nanyang Technological University (NTU) and over 29 local and global industry partners, such as Rolls-Royce and Singapore Aero Engine Services (SAESL) to witness this historic moment in Singapore's economy.
The attendees of the event was then given a tour of ARTC's facilities; a 22,000 square metres of specially-designedlaboratory and office space to support the R&D efforts of key cleantech companies. One of the displays in the lab was a joint modular project where Creatz3D was involved in 3D printing an application-specific end of arm (EOA) tools for ARTC's robotic arm. Attached to the arm's fixture are scanners and a light source aiding in the process of data capture.
The event ended off with a members' dinner celebration at the Peach Garden of OCBC Centre. Creatz3D was proud to have been part of such an occasion.