Creatz3D User Conference 2016
Redefining Innovation, (The Past, Present and Future of Manufacturing), this was the theme of Creatz3D User Conference 2016. Held at Novotel Singapore Clarke Quay on the 23rd of September, Creatz3D User Conference returns for its third year. We are honored to have been given the opportunity to be able to celebrate together with our users during this joyous occasion, celebrating our 15th year of experience in the 3D Printing Industry.
This year, the invited speakers covered topics that ranged from industry outlooks, to users experience as well as dedicated sponsors talks. Attendees were treated to a myriad of proven applications and benefits that other users have experienced. Not only that, they were able to understand first hand from industry leaders about the various outlook and potential in the future of 3D Printing. Such included Mr Gary from ARTC whom talked about the different considerations needed for 3D Printing of Metal components.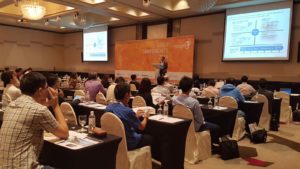 In addition, Creatz3D official company video made its inaugural appearance during the start of the conference. This video highlighted the different milestones that we have achieved throughout the years, and was done in celebration of our 15th years of experience in the 3D Printing Industry. This of course would not have been possible without the ongoing support of our users over the years.
As we ever seek to improve ourselves over the years, an interactive corner was created by Creatz3D very own application team. The interactive corner received many interested onlookers and attendees were able to get their hands dirty and try out the different injection molding, vacuum forming as well as hydraulic press applications. These hands on approach opened up their view on the different possibilities that was able to be done with 3D Printing. The first 100 attendees whom registered on that day, were also able to bring home with them a handmade piece of 3D Printed Door Gift, courtesy of Creatz3D Management.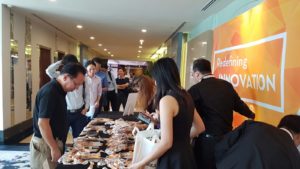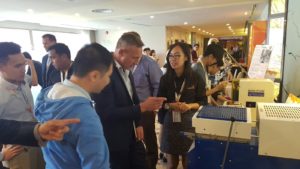 Aside from that, we also showcased the ongoing collaborations that we had done with our users over the past one year. These included CamTech, Aerolion, NTU Robotics Research Centre as well as a student project led on by NUS. All of which have benefited from 3D Printing in a way or another, through improved business workflow as well as reduction in production cost.
Most importantly, through this event, Creatz3D was able to have the opportunity to be able to exchange ideas with our users. In turn assisting them in the maximization of their full potential through 3D Printing Technology, leading to better efficiency and enhanced product or service quality.
Creatz3D would like to thank all the attendees of the Creatz3D User Conference 2016. For more information about the different types of 3D Printing solutions and technologies that we offer, please contact us via email at info@creatz3d.com or (65) 6631 8555.
For other enquiries with regards to the ongoing during the conference, please feel free to get in touch with any of the following below.
Creatz3D Company update as well as Product Portfolio
Questions pertaining to the 3 new machines at the interactive corner

Injection Molding
Vacuum Forming
Hydraulic Press

Post-Processing partners and sponsors and where to find them?
Interested in working and finding out how our case studies collaboration work?
Any other feedbacks with regards to the conference or interested in presenting during Creatz3D User Conference 2017?