Improving Clinical Healthcare with 3D Printing
Across industries, both locally and overseas, 3D Printing Technology have brought about many different benefits, some even life changing. Recently in Singapore, this been seen happening at KK Women's and Children's Hospital (KKH) cardiology service.
One such particular case was earlier in January 2016, where a nine-year-old girl underwent surgery for a complex congenital heart condition. This operation however was very different from any other procedures done at KK Hospital. What was different was that the doctors had the little girl heart 3D Printed out before they went into the operating theatre.
In collaboration with Materialise and KK Hospital, Creatz3D recently embark on creating 8 different complex congenital heart disease 3D Printed Models. These anatomically accurate models were created from patient specific data at KK Hospital and was to be used during the workshop "Surgical Morphology and Imaging of Congenital Heart Disease" happening on the 21st of September 2016.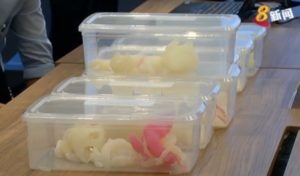 Using professional 3D Printer, such as the Connex 500, these anatomically accurate 3D Printed Models brought about many different benefits to the doctors at KK Hospital. Firstly, these 3D
Printed Models provided a "better feel" of the procedure to be done. What this meant was that it allowed the doctors the ability to be able to manipulate the 3D Printed Heart Models in their hand, visualizing the procedure to come, something that would never have been possible with traditional imaging technology. Moving an additional step forth, these 3D Printed Models were produced in rubber like materials. This meant that the surgeons if they wish to, could perform pre-surgical procedures on the models with the exact surgical tools that would be required during the actual operation. The importance of this tactile feedback to the surgeons is critical in determining the exact pressure to be exerted in complex surgeries.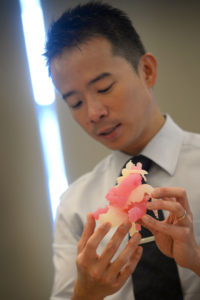 Dr Chen also mentioned that many a times, traditional 2D imaging techniques such as MRI or CT scan would be adequate for simple cases. However for certain complex cases, the aid of a 3D Printed Model helps the doctor to identify often critical information which may lack to be picked up in MRI scan.
Secondly, these 3D Printed Models can also be used to facilitate better communication between the child's parent and the surgeons. Although seemingly insignificant to some, this actually helps in boosting both the patient's and the patient's family confidence towards the surgery, ultimately resulting in a better recovery state of mind of the patient's come post op.
In addition, children surgery are generally much more complex in nature due to their smaller physique. For the case of congenital heart conditions, the small chest cavities coupled with the complex nature of the surgery makes it that much more challenging as compared to adult heart surgery.
This then leads to the last benefit, which is the ability to replicate models that are twice or even three times the size of the actual scanned patient data from MRI or CT scan. These models help surgeons in identifying what could have been left out in traditional 2D imaging techniques. This meant that surgeons could now uncover potentially new and safer methods of surgery all in the effort of improving patient recovery rate.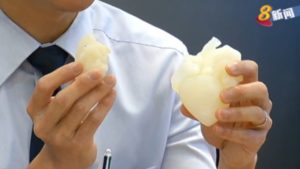 Although in Singapore, patient specific models have widely been used for reconstructive surgery, it has only been recently successfully deployed for heart operations. However to many the cost of the printed models may be discouraging, but the benefits of potential avoidance of future operations and increased rate of recovery ultimately points to a better medical care deliverance level.
As a solution provider, Creatz3D strive towards working with our customers in identifying and formulating the best possible solution for their individual needs. This stretches across all industries and is most definitely exhibited in our collaboration with KK Hospital.
For further information or collaboration similar to the case covered above, please contact us at info@creatz3d.com or 6631 8555 for more information. More coverage of the story in relevant press release can also be found below.