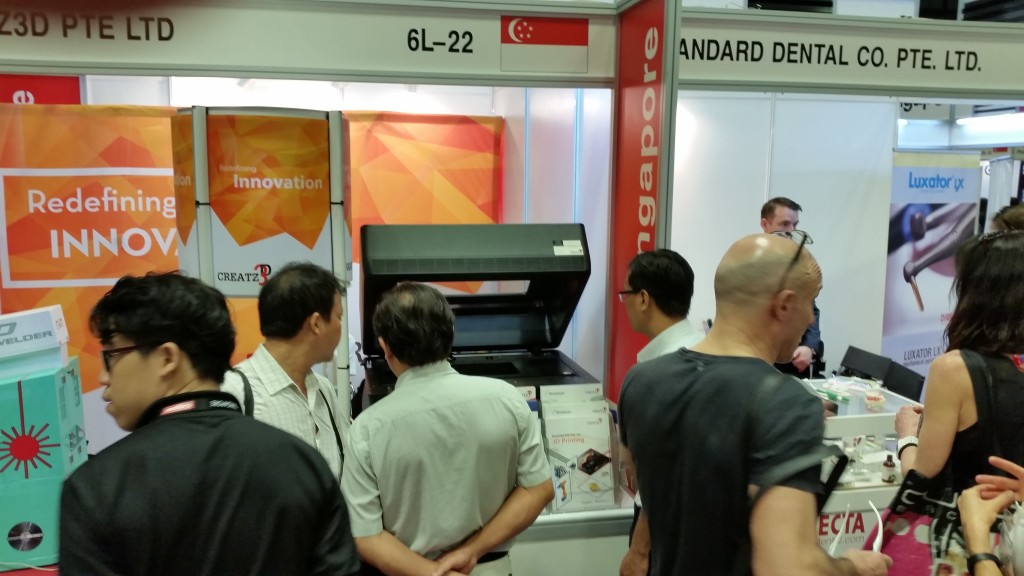 Known as the leading dental event in Asia Pacific, International Dental Exhibition and Meeting (IDEM) Singapore 2016 was teeming with dental professionals, manufacturers and academia. Held at Suntec Convention Centre from April 8th to 10th, the exhibition featured innovative dental products and technologies from 37 countries, making it the ideal platform for attendees to learn more about the latest dental trends and practices.
As Creatz3D's vision is "To provide the highest quality and value of Additive Manufacturing solutions and services", we were present at the tradeshow so as to share our insights about 3D Printing and how it can be of assistance to the dental industry. For example, a variety of 3D Printed pre-surgical dental models were displayed at our booth so as to demonstrate the capabilities of 3D Printing Technology along with the way in which it can facilitate higher operational success rate and better communication between dentist and patient(s). This is because of the increased ability to visualize the dental procedures beforehand, identify and minimize the potential risks that could occur.
In addition, due to the presence of Bio-compatible 3D Printing materials (Up to 24 hours*), dentists are also able to produce surgical guides that can be placed in the mouth during surgery, hence increasing procedural accuracy while maintaining the safety of patient's health. Most importantly, through the use of 3D Printing Technology, the dental work process is able to become more streamlined and efficient. A lesser amount of time is needed in the fabrication of models and with the digitalization of inventory, dentists/dental staff no longer have to deal with the inconvenience of organizing and storing parts, hence enabling them to focus on other aspects of the job.
Asides from that, attendees were also able to develop a better understanding of the 3D Printing process via the Objet30 Pro 3D Printer available on site. From there, they were then able to clarify any specific enquiries that they had with the Creatz3D staff present, such as material capabilities, specifications and printing speed.
To top it off, there were also many specialized dentistry workshops, talk sessions and forums that were held during IDEM Singapore 2016, making it a detailed and informative learning experience for participants and living up to its theme of 'Clinical Excellence'.
Creatz3D would like to thank all the attendees of IDEM Singapore 2016. For more information about the different types of 3D Printing solutions and technologies that we offer, please proceed here. Alternatively, you can choose to contact us via email at info@creatz3d.com or (65) 6631 8555