MakerBot Method X Trade in Promotion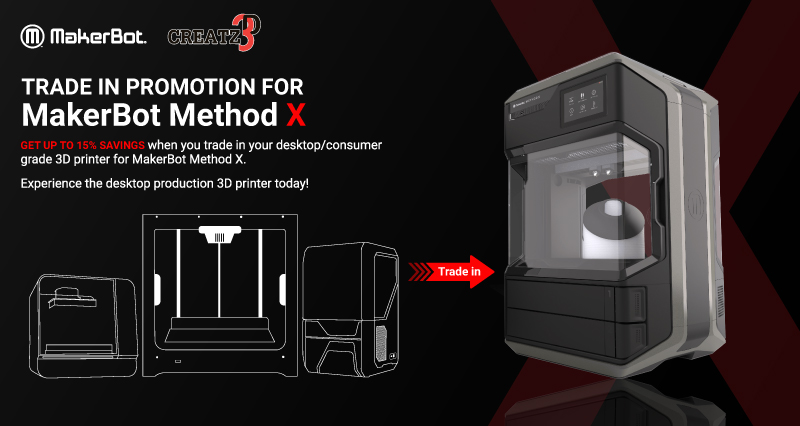 3D print prototypes and end-use parts with industrial reliability and precision at a disruptive price point with the fastest CAD to part workflow, with MakerBot Method X 3D Printer.
We are NOW giving you UP TO 15% OFF when you participate in our MakerBot Method X trade in promotion.
---
WHY

 SHOULD YOU CONSIDER GETTING

METHOD X

?
⚫️ Print Cleaner Parts
Always get clean and smooth prints thanks to the Dry-Sealed Material Bays that keep materials pristine and free of damage humidity especially in tropical climates.
⚫️ Straighter Layers
An industrial-quality, ultra-rigid metal frame runs the full length of the printer to offset flexing and vibrations – resulting in straight and even layer lines that guarantee dimensional accuracy.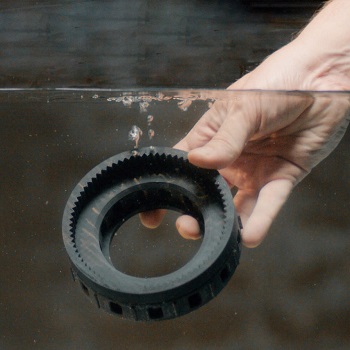 ⚫️ Uncompromised Layer Adhesion
A 100° circulating heat chamber controls the temperature and quality of every layer – not just the first. Full active heat immersion during the entire print duration eliminates warping.

⚫️ Accelerate Print Time
Dual Performance Extruders maximize material flow rate at high speeds while providing consistent and reliable extrusion across every layer, ensuring dimensional accuracy across every part.
⚫️ Unrestricted Geometric Design Freedom
With support for water-soluble PVA and Stratasys SR-30, support removal is fast and effortless without compromising on part design or dimensional accuracy.
---
MATERIALS FOR METHOD X


Rigorously Tested and Tuned
Materials for Method X are manufactured to exacting diameter and quality specifications. Shipped in a vacuum-sealed metalized polyester bag, quality is preserved right up until opening.
Each material comes with a Smart Spool™ that provides valuable information including material type, color, and amount remaining via an RFID chip directly to MakerBot Print, while a built-in desiccant absorbs any moisture exposure during the material loading process.
Materials have been extensively tested and tuned for the highest reliability and measurable dimensional part accuracy and repeatability.
Supported materials include:
ABS, PC-ABS, ASA, NYLON Carbon Fiber, NYLON, PETG, TOUGH, PLA, SR-30, PVA
---
GET STARTED WITH METHOD X
Contact your local sales representative, give us a call at our general hotline +65 6631 8555, or email us at info@creatz3d.com. You can also click the button below to indicate your interest.
* Terms and conditions apply and are at our discretion.
Like what you read? Share the love!