Mcdonalds 'Always Working' ad comes alive with 3D Printing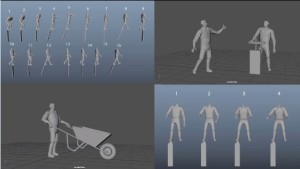 Whether it is an iconic jingle or a trademark gesture, the mark of a successful advertisement is when people are able to remember it. With the over saturation of media coverage, companies are trying all means and ways to grab consumers' attention and leave a lasting impression. Needless to say, this extends to major corporations such as McDonalds as well. Renowned for their memorable, "I'm lovin' it" catch phrase, McDonalds have executed numerous iconic advertising campaigns and this includes their recently launched 'Always working' ad (UK).
In the ad, several farmers and workers are seen working to put together a McDonalds meal. However, what stood out most in the ad were the stop motion animation effects and the intricate details of each figurine that had been made possible through 3D Printing Technology. Instead of having to painstakingly carve out and sculpt each figurine, the production team was able to create many elaborate figurines in a short frame of time. Size, shape, texture- the 3D Printed figurines could be produced and replicated in the exact manner as envisioned, making it an accurate and efficient process. There is also no longer a need to rely on outsourced manual labour, if any, hence enabling for better coordination and control over the production schedule.
In addition, with the incorporation of 3D Printing Technology, design iterations can be carried out effortlessly and quickly, hence facilitating the creative process and allowing designers to fabricate unique, customizable models or products. This artistic aspect is especially amplified when using PolyJet (3D Printing) Technology. Requiring no post printing curing as well as the ability to combine multiple materials in one print, it is no surprise that PolyJet 3D Printing Technology is been increasingly used in various facets of the animation and entertainment industry.
Most importantly, with the smooth surface finishing of the PolyJet 3D Printed parts, users are able to easily paint or carry out other forms of post processing on them, thus ensuring that the ideal, optimal results are achieved.
For more information about the capabilities of the PolyJet 3D Printing Technology and how it can be applied to the Animation and Entertainment industry, please proceed here. Alternatively, you may choose to contact us at info@creatz3d.com or 6555 8831 to find out more.
*Screencaps taken from The Making of 'Always Working' Ad video.