BAE System gets a 4th Stratasys F900 to support Factory of the Future initiative
To reduce costs and improve production ability, British aerospace giant BAE Systems has added a fourth Stratasys F900 3D Printer to their Samlesbury manufacturing site in the United Kingdom.
The new addition will bolster BAE's transformative "Factory of the Future" initiative, which is the first-of-its-kind by fully connecting human operators along with the latest in manufacturing technologies in a seamless manner.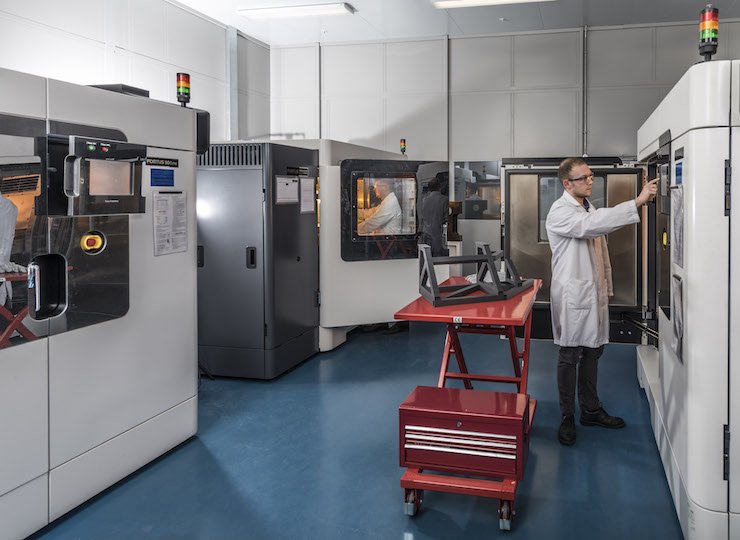 With a fleet of F900s now at the facility, BAE can now produce an even wider range of applications in a more flexible and quicker manner while turning costs down significantly.
The use of additive manufacturing is helping BAE to optimize aircraft production more efficiently. Applications are mainly spread across aircraft ground equipment operations spanning space models and design verification prototypes, manufacturing tools such as jigs and fixtures, and final end-use parts.
Our Factory of the Future program is all about driving the future of fighter aircraft production with disruptive technologies. Stratasys FDM additive manufacturing plays an important role in this initiative, as it helps us meet our overall company objectives to reduce costs and time-to-market
Greg Flanagan, Additive Manufacturing Operations Lead, BAE Systems Air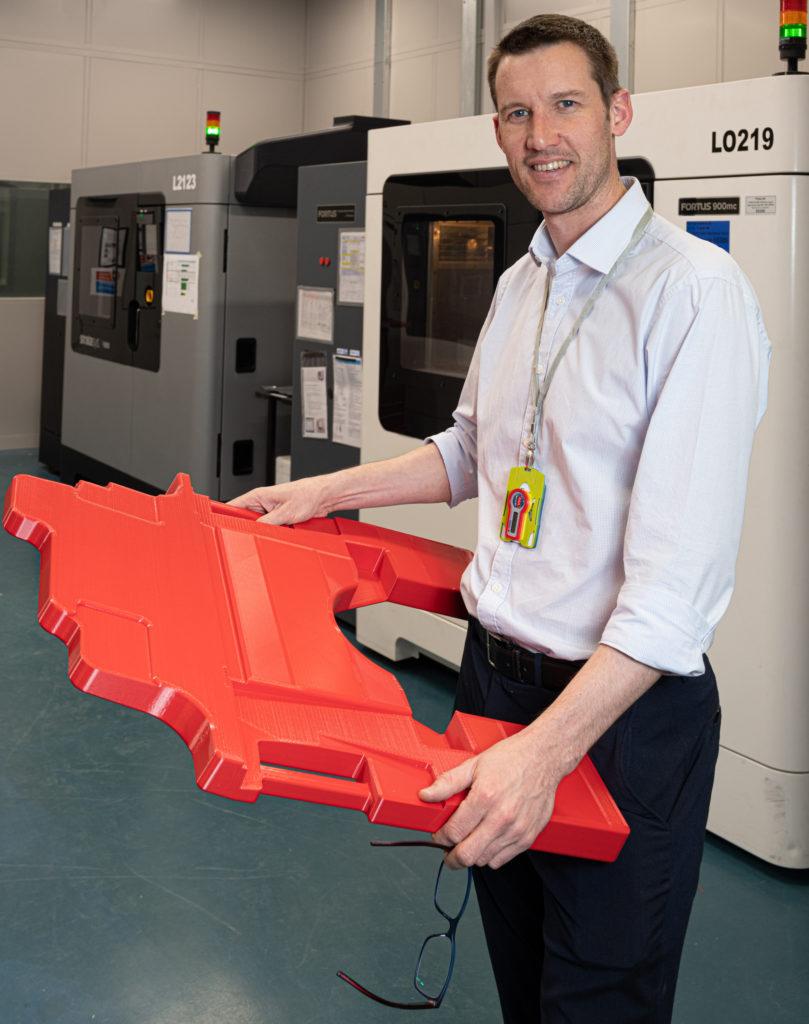 FDM-based 3D printing technology also throws up the opportunity to decrease the up-front cost of tooling for new products.
This is the case for drill tools, repair tools, and other development tools that are often needed in small quantities.
"We can rapidly 3D print one-off parts for new products, replace tools more easily and cost-effectively, and maintain production operations when the hardware is delayed. If supply chains become disrupted, having this production power in-house also enables us to be more agile as a business and continue to best serve the needs of our customers," said Flanagan.
BAE has also found ways to optimize or replace existing traditionally manufactured applications with high-performance FDM materials. This includes utilizing durable ABS and ASA materials for a range of aircraft ground equipment, such as cockpit floor covers for the Typhoon fighter aircraft, or using carbon-fiber-filled FDM Nylon 12CF material to create robust yet lightweight repair and development tools.
The thermoplastic covers can be made much faster than traditionally manufactured versions and are a lot lighter and easier to move for the ground crew, so it improves efficiencies within the maintenance, repair and overhaul process.
An added bonus is that they can be printed in red – the color of all 'remove before flight' components.Greg Flanagan, Additive Manufacturing Operations Lead, BAE Systems Air
Looking to the future, BAE Systems will work even more closely with Stratasys to identify, address, and solve the company's current and anticipate future manufacturing challenges.
Click to learn more about FDM technology and Stratasys F900. You can contact us via our contact form, email us at info@creatz3d.com, or call +65 6631 8555 for any further inquiries.
Like what you read? Share the love!