John Zink Hamworthy eliminates the need for hard tooling with Desktop Metal
Desktop Metal has a system that has a very low-cost entry point into the technology – there's no real cost to preparing the facility, you basically just plug it in and you can go.
For JZHC, the Studio System from Desktop Metal has been a success – using 3D printing, the company has been able to produce custom parts that are tailored to their customers' applications faster than ever before.
A radical new fuel atomizer design produced using metal 3D printing technology from Desktop Metal, featured sweeping, airfoil-like fins that helped to save between $90K and $160K in annual fuel costs for JZHC.
Customer Spotlight Video
In this 13-page Case Study eBook put together by Desktop Metal, learn how engineers and designers at John Zink Hamworthy Combustion have benefitted immensely from the system's versatility to create parts that are engineered-to-order and optimized for each customer's specific application.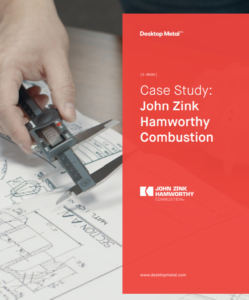 Understand the challenges faced by JZHC in today's landscape
Learn how Additive Manufacturing is creating new business opportunities
Why Desktop Metal represented an affordable entry point into the world of metal 3D printing
Discover the innovative applications that jZHC has produced such as fuel atomizer, YE-6 burner tip, laser gas nozzle, and more.
To learn how your parts will work with Desktop Metal Systems, contact our sales engineers for an in-depth discussion to better understand your requirements – via the contact form, info@creatz3d.com, or call +65 6631 8555.