For More Application Possibilities
The C900 HYBRID has the capability to print a second, or more material at the same time, and the depositing of the second material can adjusted accordingly to your needs and specifications.
Up to 3 types of dispenser systems are available: from needle valve to micro dispensing system, where the hybrid functions are integrated in CPS software (one software to control printer and hybrid).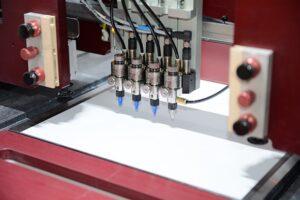 The technical characteristics of 3DCeram materials are developed specifically for use with C900 HYBRID and enable the ability to obtain homogenous layers for maximum part quality that are recognized by the most demanding industries.
The printer also has Free Link Support technology, a proprietary technology developed by 3DCeram for the manufacturing of 3D printing supports. Parts can be produced without leaving support marks, helping to ensure better quality prints.