Creatz3D User Conference 2019
Held at The Sands Expo and Convention Centre spanning 2 ballrooms, with the theme of 'Take the Next Step Forward and Create for Real', the Creatz3D User Conference 2019 returned for the 6th year running on 27th September, as invited users got to listen in and witness a vision of a future with real and practical 3D printing possibilities.
Taking AM to the next level
Invited speakers hailing from major 3D printing innovators, companies, and organizations around the world also shared their valued insights on the modernization and digital transformation of manufacturing processes with additive manufacturing. Users were able to glean from the keynotes on how to better drive value and achieve greater efficiencies.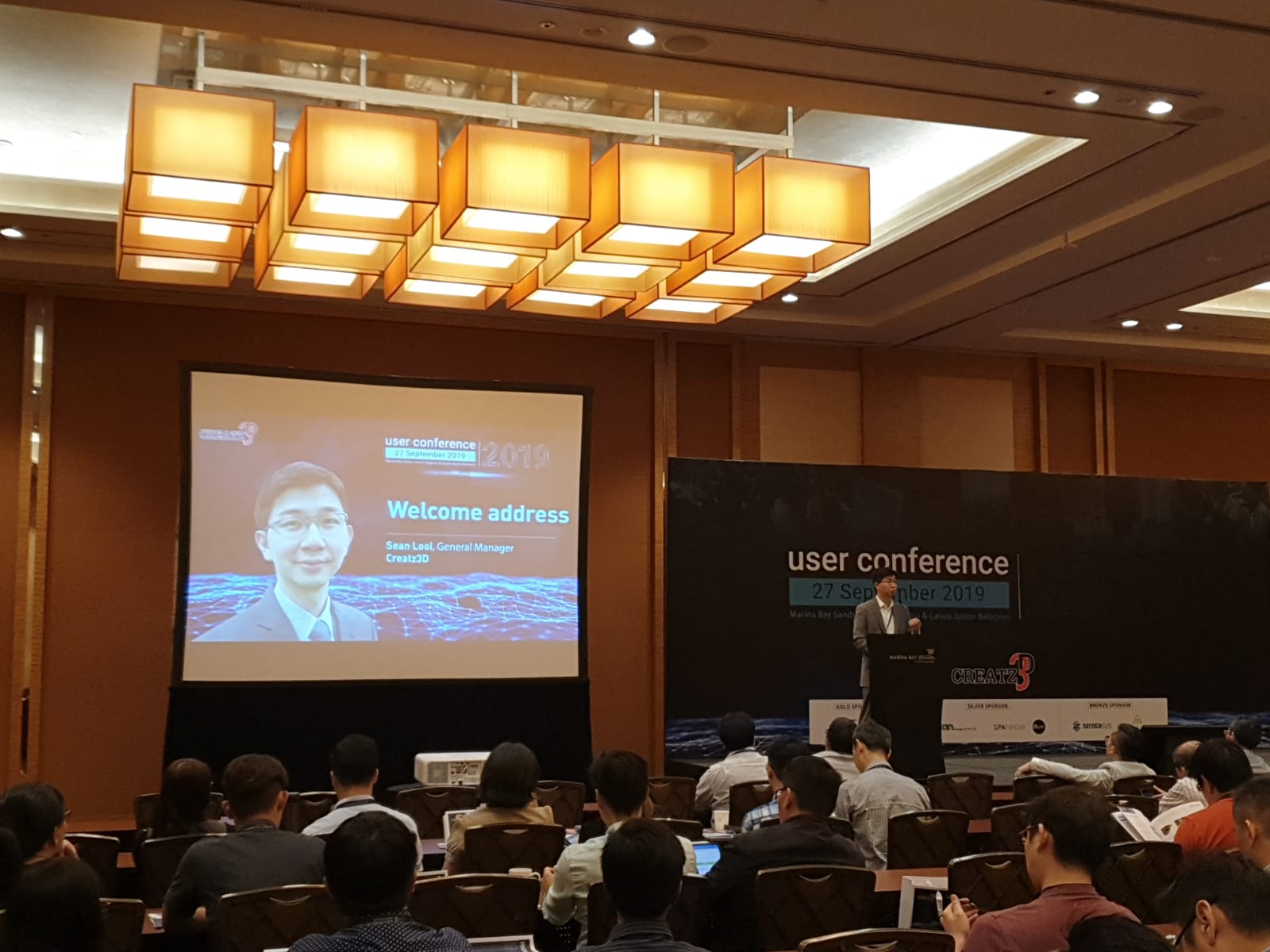 One of the most important topics revolving around 3D printing is how it can improve work processes with its numerous benefits. Mr. Aldwin Su, Research Engineer from P&G, got the ball rolling by talking about the present, expectations regarding the future of 3D printing, and how we can build towards being business impactful
Mr. Maurizio Costabeber, the CTO of Digital Wax Systems (DWS), which is an Italian additive manufacturing company that deals with digital manufacturing, then took to the stage and introduced jewelry, dental, and industrial applications that can be produced with advanced Stereolithography technology.
The applications team comprising of Ms. Sally Chuen and Ms. Nijie Chong then gave a glimpse of exciting updates from Stratasys due later this month (stay tuned to our website and social media) and also revealed exclusive findings from their chemical testing on the characteristics of various 3D printed materials.
In line with this year's theme, the potential of furniture 3D printing designing was also demonstrated with a modern living concept area with several 3D printed parts utilizing FDM and PolyJet technologies such as vase, plate, mug, lamp, clock, LED lights, and more on display, some of which were sanded and polished to show their immense potential.
Notable findings and case studies were also on display to demonstrate the synergy of collaboration and the applicability of 3D printing solutions:
Strongest Nylon test
Elasticity and elongation at break test between Agilus30 and Tango
Memory effect test between Agilus30 and FLEXA GM08B
Car window button reverse engineering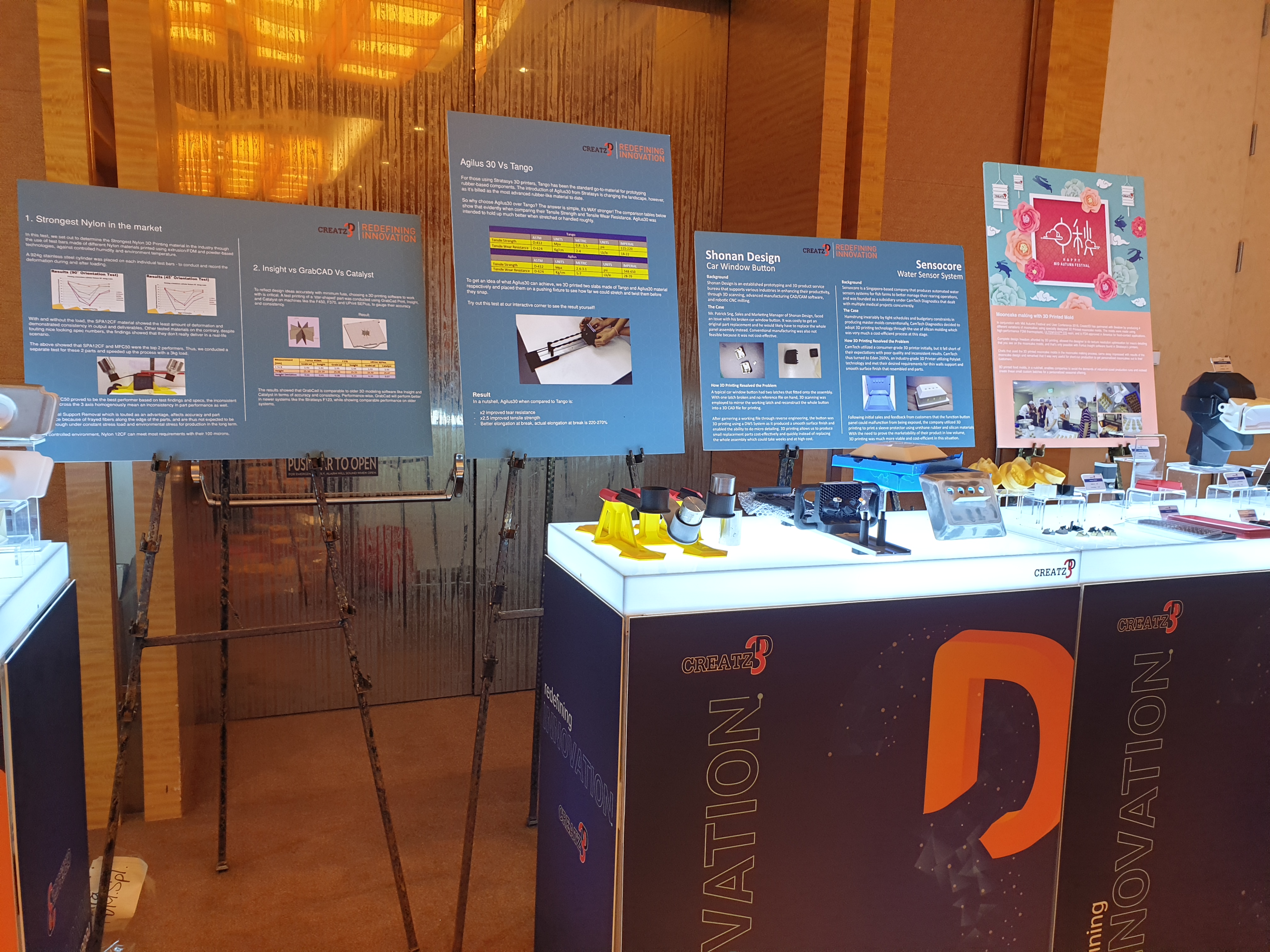 With the onus to prove 3D printing's applicability, the Creatz3D's applications team also prepared two 3D printed items – RFID cable tie and In-car Potpourri ball – as door gifts, to prove the capabilities and potential of Stratasys FDM technology and Insight Software to push the boundaries of what is possible  – every year.
The conference then resumed with Mr. Maxence Bourjol, Sales Manager of 3DCeram outlining the brand's transition from lab scale to mass production of ceramics 3D printing with technological advances.
This was followed by Creatz3D's very own ceramics engineer, Pengcheng Ye, who touched on the developments and roles of Ceramics AM. With their unique characteristics that fill a gap that plastics and metals are unable to, technical ceramics is a viable alternative for certain industries to go into additive manufacturing with.
As the world's first dry electropolishing system that delivers brilliant mirror-like finishes to precious metals, Creatz3D was once again delighted to showcase the system's capabilities with proven applications done by Creatz3D's DLyte expert, Ms. Nur Aisha, and Mr. Juli Gimpera from GPA Innova also shared case studies of how companies have used their systems.
Getting the most out of your AM machines is of the utmost importance, and this was singled out by Mr. Mun Chun Lim, Account Manager of SEA Materialise Software, as he shared how the company has been empowering meaningful 3D printing applications through intensive product development since 1990 with their in-depth knowledge.
Metal fabrication has always been an integral part of the manufacturing industry, and Mr. Kan Chun Kit, regional director of Asia Pacific Desktop Metal, highlighted on how the Studio System and Production System from DM leverages on proven technologies and were built with goals of making metal AM more accessible, and improve success rates.
Last but not least, Dr. Alex Liu, head of additive manufacturing program APAC ASTM, shared on the current status on standards development for additive manufacturing, which is of particular interest and importance across industries especially with some of them having really no room for errors in terms of critical parts being produced.
Attendees also had the chance to learn about the solutions provided by the conference's sponsors, Materialise and Shonan Design, with their AM software solutions and 3D scanning hardware/applications respectively.
Also, on display were a wide array of 3D printed samples from major brands like Stratasys, Desktop Metal, DWS, SISMA, 3DCeram, and XJET, which demonstrated their functionality and aesthetic capabilities of their 3D printers.
Creatz3D also had the support of Nanyang Polytechnic in the loaning of an FDM 3D printed table for the modern living area, and display cases from Moducase to showcase 3D printed samples with flair.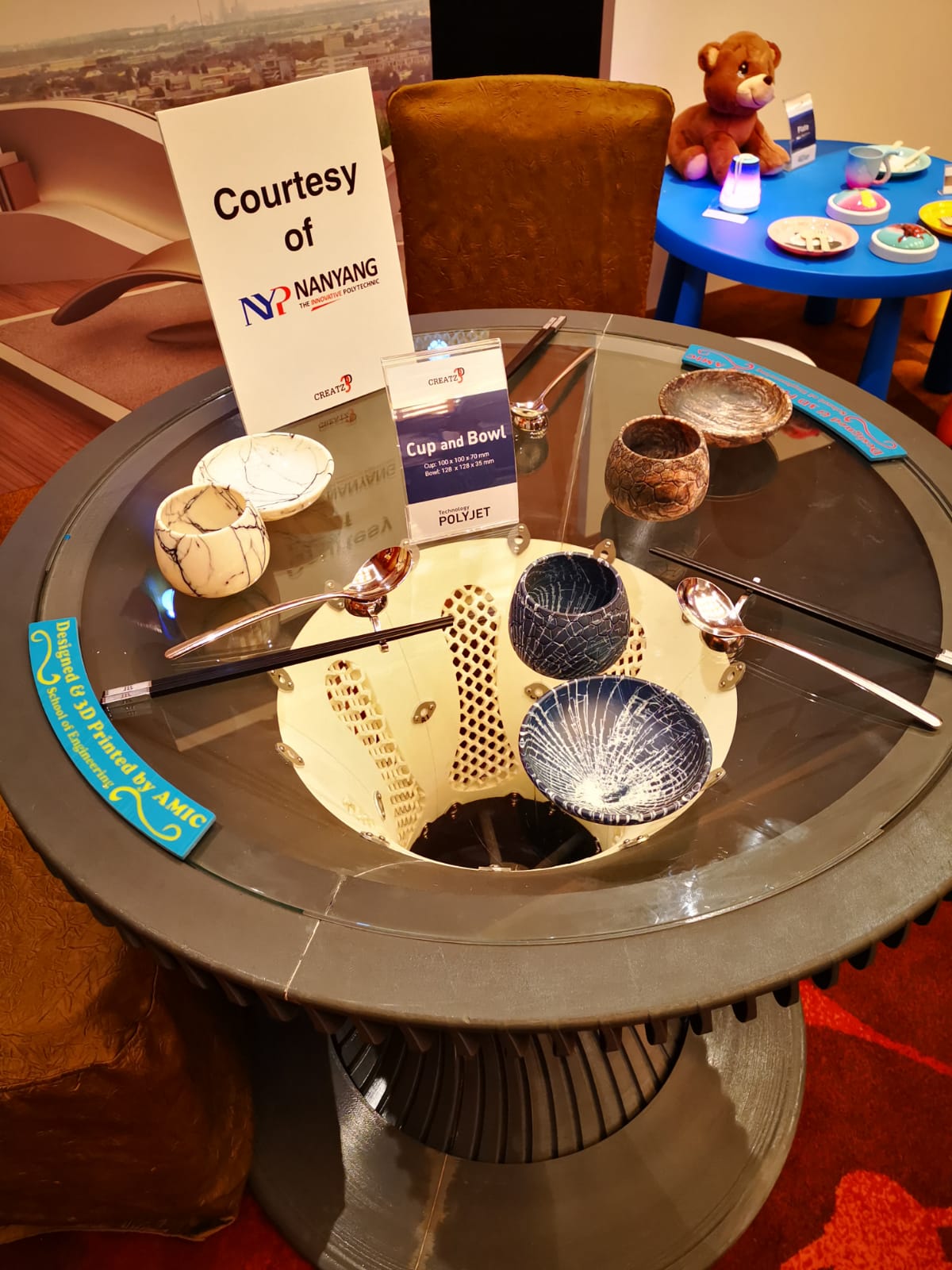 Advanced machines like the Stratasys J750, F450, as well as uPrint SE Plus and Mojo, were on display alongside Desktop Metal's Studio System, and DLyte Polishing System to give attendees a glimpse of how they looked like up-close.
The takeaway – the promised value of 3D printing is becoming more tangible with the smooth transition to digitalization and a sense of growing awareness of the technology among users with more real working applications.
To explore more on enjoying unparalleled innovation and design freedom with 3D printing implementation for your business, please click Marketing Collaboration to learn more.
For more information about the 3D Printing solutions and technologies that Creatz3D has to offer, please visit our website. Alternatively, you can drop an email at info@creatz3d.com or call +65 66318555.

Like what you read? Share the love!