Outperform the market with 39% Lower Labor and Material Costs with TPU 92A.
An Elastomer that's virtually indestructible with very high elongation
Finally, a TPU (thermoplastic polyurethane) material that makes the production of complex parts much easier, and relieves pain points commonly found in current Elastomer 3D printing options.
As the only elastomer with real soluble support, rapid prototyping has never been easier with a Stratasys 3D Printer.
TPU 92A allows for quick turnaround of parts in a matter of hours compared to conventional methods which take days. It is also able to support large build size and create complex geometrical designs reliably and is something that's unachievable by competing technologies like SLS, FFF, and others.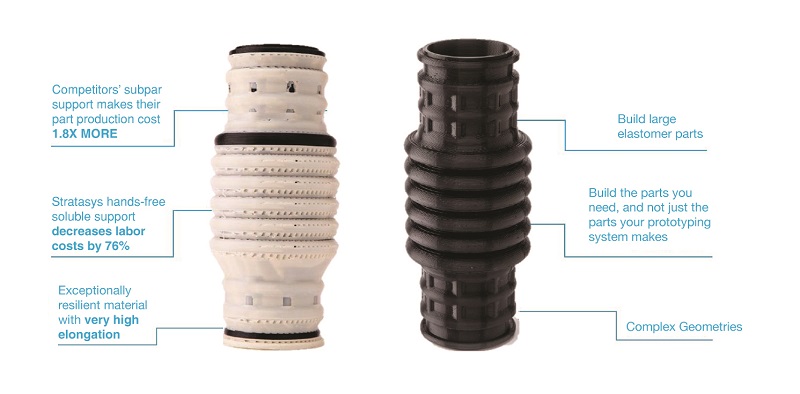 6 Different Material Options
With the Stratasys F123 Series, you can print everything from fast, low-cost concepts to robust assemblies.
Choose from up to 6 different materials, including TPU 92A elastomer with easy-to-remove soluble support material*.
*Stratasys F170 and F270 support TPU 92A, PLA, ABS-M30, and ASA. Stratasys F370 supports the above as well as Diran 410MF07 and PC-ABS.
PLA uses breakaway support only. TPU 92A uses QSR (SR-35) soluble support. Diran 410MF07 uses SUP4000B support.
Available materials: TPU 92A, PLA, ABS-M30, ASA, PC-ABS, Diran 410MF07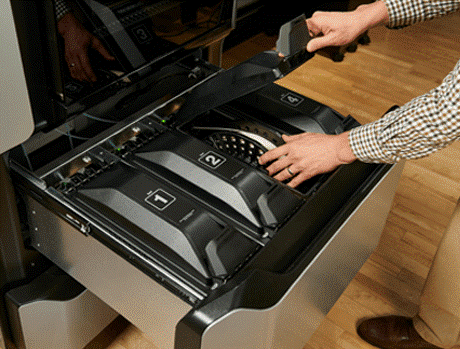 Intuitive 3D Printing Software for Professionals
Print from any Devices
Cloud-connected ability allows you to directly print from any browser from your device of choice
Remote Scheduling and Monitoring
Gain access, monitor material levels for budget planning, and print from anywhere regardless of location as long as there's an internet connection
Efficient Print Scheduling
Print scheduling is made more efficient with a constantly updated listing of machine availability, estimated job duration, and other key considerations.
Always Be Notified
Be it a print job completion or if an error has occurred, notifications allow you to act accordingly.